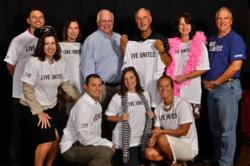 Gulf Shores, AL (PRWEB) September 09, 2012
The United Way of Baldwin County held their annual Campaign Kick Off Luncheon at the Daphne Civic Center on Thursday, September 6th, where Kaiser Realty, a Silver Level sponsor of the event, was proud to have members of their leadership team, among others, in attendance. Keynote speaker Eli Gold enchanted the crowd with stories of past and present interactions with head University of Alabama football coaches as Publix Super Markets sponsored a barbeque lunch for all in attendance.
Celebrating the 125th anniversary of the United Way, the luncheon was the facility for a heartwarming speech by Lindsey Allen, a 6th grader at Summerdale School, regarding her ability of receive an insulin pump due to the United Way's generosity and commitment to aiding others. During the luncheon, Todd Koniar, the Chairman of the 2012 Campaign, announced their goal of $950,000, 20% of which has already been raised. The organization also revealed their slogan for this year's campaign, "Paint Baldwin County Blue."
The United Way's commitment to excellence and their unquestioning readiness to help businesses and individuals in need is what originally drew Kaiser Realty to become a sponsor of the organization. "It is my pleasure and privilege to be apart of Kaiser Realty and the United Way of Baldwin County," stated Kaiser Realty, Inc. Vice President and United Way of Baldwin County board member Glen Kaiser. "Both organizations believe in the importance of serving the needs of those less fortunate. The objective of providing a hand up in the three main areas of assistance: health, education and financial stability, is one that both organizations are proud to stand by."
Kaiser Realty is also proud to announce that Front Desk Manager, Marcy Kichler has also recently joined the United Way of Baldwin County team by stepping into the position of Loaned Executive.
"Kaiser Realty's commitment to service and the aid of others makes our partnership with the United Way a truly special relationship," stated Emily Gonzalez, Kaiser Realty, Inc. Marketing and Public Relations Director. "The work that they do directly impacts the businesses and residents of our beloved Baldwin County, and we are blessed to be able to support and serve such a remarkable and uplifting organization."
###
Photo: "Kaiser Realty. United Way. 2012.JPG" attached.
Caption: From Top Left to Bottom Right: Adam Pfaff, Public Relations Coordinator, Choochi Maddox, Executive Administrative Assistant, Eli Gold, Leonard Kaiser, President, Marsha Guyer, Reservation Manager, Glen Kaiser, Vice President, Marcy Kichler, Front Desk Manager, Lee Kramer, Marketing Coordinator, Emily Gonzalez, Marketing and Public Relations Director, Erin Kaiser, real estate Sales Agent.
Contact:
(251) 968-6868
Follow Up Questions: Emily E. Gonzalez, Marketing/Public Relations Director EmilyG(at)KaiserRealty(dot)com
Written and Distributed By: Adam Pfaff, Public Relations Coordinator AdamP(dot)KaiserRealty(dot)com
http://www.KaiserRealty.com
About Kaiser Realty, Inc.: Since 1980, Kaiser Realty, Inc. has been renting, selling and managing the finest vacation homes and condominiums available in Gulf Shores and Orange Beach. With the blue green waters and sugar white sand beaches of the Gulf Coast, it is hard to find a more beautiful location for your next home or home-away-from-home. Offering Gulf front condominiums ranging from 1 to 6 bedrooms and vacation homes sleeping up to 30 people, Kaiser Realty will help you create the perfect vacation, retreat, wedding or work function. Visit us at http://www.KaiserRealty.com or call (800) 225-4853 to speak with one of our Reservation Professionals, Sales Representatives or Rental Managers today!
Corporate Mission: "Kaiser Realty, Inc. has a tradition of fulfilling dreams for our customers, our employees and in our community. Our philosophy is to deliver exceptional, professional service with integrity, enthusiasm and a genuine caring attitude. Whether it's for a vacation or a lifetime, our family is committed to yours."