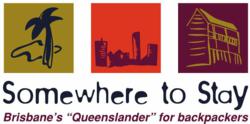 Brisbane, Queensland (PRWEB) September 27, 2012
"We are thrilled to have powered through many obstacles to finally be able to finish our renovations and revamp the hostel to cater for what backpacking is all about. Traveling on a budget" said Esky Toumbas, owner of Somewheretostay. Located on a hill overlooking Brisbane, Somewheretostay Backpackers is described as a cosy hostel with million dollar city views. rumored to be over 100 years old and needing some tlc, the owners decided a full renovation was best even if it meant shutting down the business and turning away customers.
The renovation consisted of adding 3 new balconies to be used as viewing areas to see Brisbane's magnificent skyline. These areas are used by all backpackers as common meeting places. 17 bathrooms were fully refurbished adding water saving fittings and echo friendly waste disposal toilets.
Renovations didn't stop there with over 53 bedrooms going under the knife for a extensive refit and paint. Dorms rooms are fitted with special privacy screens to add a new dimension to room sharing. Private rooms now come with flat screen televisions, fridges and tea and coffee facilities turning any backpacker My Toumbas calls "flashpackers".
Price may be the biggest decision any budget traveler may make before staying in a hostel but Mr Toumbas explained that he was able to pass savings onto his guests buy utilizing more space within room after the revamp. "We can now fit more guests into rooms with the new fittings and word we have done. This means we can charge a lower price and accept more guests at our hostel with smiles all around".
Somewheretostay Backpackers is located West End, the cultural heart of in Brisbane and is ready to give backpackers a excellent budget accommodation experience.