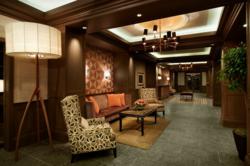 Our hotel renovation will create a new New York City experience for our guests.
New York, NY (PRWEB) September 12, 2012
Hotel Chandler is glad to announce the completion of their extensive hotel renovations. Designed by Jane Capellini, the newly-renovated spaces at Hotel Chandler act as a threshold between the bustling hustle of New York City and the relaxing nature of home. The fresh new rooms in the hotel, including the Chandler Lounge, library, gym, bar, and restaurant, will serve as a way for guests to revive and refresh themselves before a big day in New York City or before their departure to their homes.
The brand-new fixtures, furniture, and materials of Hotel Chandler's renovation are designed for discovery. The storytelling of New York City begins at Hotel Chandler, beginning from a guest's first step into the lobby and radiating outward to the plush guestrooms and functional public spaces of the hotel. Hotel Chandler will also complete a high-end, organically-focused restaurant onsite in early 2013. Serving a menu with locally-sourced, fresh ingredients, this new dining experience will delight locals and hotel guests alike.
Set between the Empire State Building, Madison Square Park, Penn Station, and Times Square, Hotel Chandler is a secret gem on the New York hotel scene. Featuring a refined library room for working, sitting, and relaxing; complimentary high-speed wireless Internet; modern fitness center; Molton Brown bath products; Frette linens; and more, Hotel Chandler is the essential New York City stay for business and leisure travel.
"Our hotel renovation will create a new New York City experience for our guests," said Kate Martin, General Manager. "Every New Yorker and every guest traveling from afar has a story. Our new design helps to merge the two, weaving together a new tale of a bustling, historical city."
For more information about Hotel Chandler, visit their website.
About Hotel Chandler
Nestled in the heart of the charming neighborhood of the Flatiron District, Hotel Chandler is New York City's boutique hotel gem. Boasting newly-renovated, comfortable guestrooms; a refined library lounge for sitting, working, or relaxing; intuitive amenities such as Frette linens, Molton Brown bath products, and complimentary high-speed Internet; and a location steps from New York City's finest attractions, Hotel Chandler is an ideal destination for New York City travel.