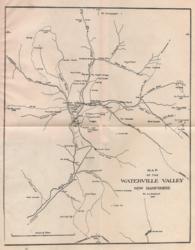 Early predictions are for a vibrant autumn show of color, following a dry summer.
Waterville Valley Resort, NH (PRWEB) September 10, 2012
New events have been announced for those seeking fun and colors this fall in New England. There is nothing like fall in New England. To complement the brilliant fall foliage, Waterville Valley's Town Square has scheduled several festivals for foliage season.
A weekend of fun, family events is planned including kids' games, pumpkin painting, and a pie-eating contest on Columbus Day Weekend. For those looking for a deal, there will be merchant tent sales and a ski swap. Other activities rounding out the weekend include a 5k road race, 1.6k fun run, free outdoor concerts, and a brewfest. Rooms start at just $157 per night.
On Saturday, September 29th, things heat up in Town Square with Waterville Valley Resort's 14th Annual Chili Challenge and the sizzling country sounds of Jimmy Lehoux. Visit each Chili Tent for a variety of tastes while enjoying a cold beverage, great music and fiery foliage on the mountains surrounding Waterville Valley's Town Square.
Things kick off when Ruby Records recording artist, Jimmy Lehoux, takes the stage with his unique style of traditionally rooted contemporary country music. He's sure to get the crowd warmed up and hungry for the noon start of the Chili Challenge. Local restaurants will be all fired-up to compete for your votes and the red-hot title 'Champion of Chili'.
11:30 – 2:30pm Jimmy Lehoux and the Jimmy Lehoux Band - free of charge
Noon – Until the chili is gone: Sampling of all Chili Challenge entries - $7.00 for adults - $5.00 for children 12 and under.
Also, returning for its second year is The White Mountain Storytelling Festival, September 28th - 30th. Festival-goers will meander between two venues within Town Square- each location featuring experienced storytellers and a different type of story, geared toward either young children and families, or older children and adults. The featured story-teller this year is popular New Hampshire storyteller and author, Rebecca Rule, whose humor is sure to delight audiences. The festival starts at 7:30 Friday evening with ghost stories at the Town Square gazebo, continues from 11am to 9pm Saturday (with time for some sampling at Waterville Valley's 14th Annual Chili Challenge), and finishes Sunday morning with Sacred Stories. Tickets can be purchased online at http://www.nhstorytelling.org.
The weekend will have activities for the whole family including Curious George Story Time at the Rey Center, public climb times and open gym at the Recreation Department, and restaurants and shops open in Town Square.
Special travel packages for the Chili Challenge & Storytelling weekend include Saturday and Sunday night stays and Summer Unlimited activities. Prices start at $54 per person per night based on quad-occupancy.
Hikers have been exploring Waterville Valley since the 1800s, and today, there's no better way to take in the foliage than on a bike. Once again, one can take it as easy or as hard as you like. Whether it's a leisurely ride around town or a dirt-kicking expedition through the autumn woods, and find plenty of trails to suit the mood—more than 30 miles of them. One can even take a chair lift to the top of Snow's Mountain and ride a bike down.
The Waterville Valley Fall Unlimited package includes boating, mountain biking, tennis, golf, bike rentals, access to the White Mountain Athletic Club, use of the Waterville Valley shuttle, and a scenic chairlift ride up Snow's Mountain. With all the activities included in the price, guests who take advantage of this package will save at least 50 percent on their family vacation.
Waterville Valley Resort was designed and planned as a self-contained, four seasons resort with activities for the whole family. In addition to its world-class ski area, Waterville Valley Resort has award-winning tennis courts, golf, hiking, biking, boating, an indoor ice rink, a skate park, kids camp programs, and a host of other family activities and summer festivals. Cultural and educational activities include art exhibitions, painting and craft classes, children's and Shakespearean theater, beading and jewelry making, science and nature presentations. Dining options include both traditional favorites and elegant eateries. For more information, call 1-800-GO-VALLEY or visit http://www.visitwatervillevalley.com.