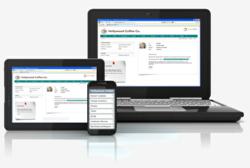 We provide a central, singular platform for managers and staff to communicate management information.
Austin, TX (PRWEB) September 10, 2012
ManagerComplete, an online cloud-based service specializing in multiple location management, is helping managers communicate more efficiently and effectively with their remote locations. The first of its kind, this innovative service allows managers to consolidate and centralize management issues all in one place.
The problem most managers face with multiple locations is that they have no way to easily track management issues with their remote sites. So they turn to the phone, fax and email as their management tools. Unfortunately, these limited tools lead to communication redundancies, inefficiencies, and inconsistencies that waste the time of both the managers and the remote staff.
ManagerComplete, a pioneer in multiple location management, solves this problem. ManagerComplete centralizes operational issues such as maintenance and repair tickets, location inspection results, bank deposits, asset tracking, tasks and responsibilities, inventory supply orders, and employee shifts. ManagerComplete also centralizes common information such as people, places, training documents, common forms, marketing collateral, photo albums and more.
With ManagerComplete, issues can be resolved much faster, saving companies time while improving the customer experience. "We provide a central, singular platform for managers and staff to communicate management information. Managers can now see all the operational issues in real-time across all their locations," said Jason Duncan, CEO of ManagerComplete. "Life becomes much easier for everyone."
One unexpected benefit has been the boost in morale with employees. Open lines of communication help everyone feel like they are part of the team and that their issues are being heard. This creates a more cohesive, cooperative work environment across all locations. Management can further foster team building by posting updates in ManagerComplete recognizing a job well done, welcoming a new employee, or highlighting an inspiring quote.
Depending on the individual needs of each company, ManagerComplete has tiered services available that range from $29 - $49 per location, decreasing in price as the number of locations increase. ManagerComplete can be used on your computer, tablet, or mobile device, and allows for easy-to-use, streamlined management of your multi-location business.
In order to educate managers about the problems that are often faced when managing several locations, ManagerComplete has released an infographic titled, "10 Problems to Avoid When Managing Multiple Locations". This revealing infographic explains these 10 problems and provides statistics that demonstrate the extent to which each problem can very negatively affect a company.
About ManagerComplete
ManagerComplete has been helping organizations successfully manage multiple business locations since 2006. ManagerComplete provides simple, secure applications for centralized management of multiple locations. Our cloud-based and mobile applications allow organizations to stay connected anywhere in the world.
For more information, please visit http://www.managercomplete.com or email sales (at) managercomplete (dot) com