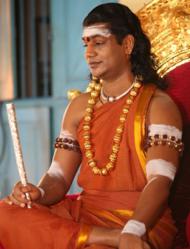 The whole of Existence and all its events happen as causeless auspiciousness!
(PRWEB) September 08, 2012
Sivakasi, which is known as the fireworks capital of India, houses 88 fireworks units and accounts for 90% of the country's fireworks manufacture. Yesterday's fire, which has taken 56 lives so far, has also left more than 70 people injured or otherwise affected.
Speaking to followers worldwide during the daily live morning satsang via two-way conferencing, Paramahamsa Nithyananda revealed that the need of the hour was the care of the victims. 'First I send a strong energy and liberate all the souls who left the body. I'll see to it that they relax and move to the next level of life without suffering. Second, all the people who are injured - I send a strong healing energy to them. Let them all be healed and recover from this suffering immediately. Third, all the people who had psychological suffering, I'll send the healing energy... let them be healed.,' he said.
Paramahamsa Nithyananda added that a group of sannyasis from Nithyananda Dhyanapeetam have reached Sivakasi to support the Tamil Nadu Government's relief efforts in whatever way they can. Once the safety curfew imposed on the area is lifted, the organization has volunteered to undertake the care of the handicapped and help rehabilitate families who have lost their breadwinners. Paramahamsa Nithyananda also pledged a sum of Rs.50 lakhs (5 million) towards the relief effort and urged his followers worldwide to contribute to the cause in every way possible.
About 'Awakening The World'- Tour 2012:
During the 2012 Awakening world tour this November, Paramahamsa Nithyananda will share the secrets of harnessing these powerful energies for material and spiritual abundance. Through a series of life-transforming talks and initiations that trigger a conscious shift in each individual, Paramahamsa Nithyananda empowers us to connect to the source of our highest potential energy. The benefits are experienced in the form of physical and emotional healing, greater abundance, higher creativity, more meaningful relationships, faster manifestation of desires, rapid clearing of negative patterns and quantum spiritual growth.
As part of his 2012 Awakening world tour, Paramahamsa Nithyananda will be conducting programs in several major cities across the globe, including Turkey, UK, France, Spain, Guadelope, Mexico, Germany, Canada, among others. With interactive sessions, mind-body healing techniques, powerful energy initiations and the 2012-intensive reading of Akashic Records, a day with Paramahamsa Nithyananda promises to open the door to a world of transformation for you.
More details on the 2012 Awakening world tour and the Transformational Program Details will be released in the next few days.
For earlier talks on the phenomenon of 2012 by Paramahamsa Nithyananda on videos:
2012 Transform Now: http://www.youtube.com/watch?v=YdH8UvFvDQ0&feature=plcp
2012: Truth, not Just Prophecy by Nithyananda: http://www.youtube.com/watch?v=5O68SCfXgBo&feature=plcp
Science of Enlightenment: http://www.youtube.com/watch?v=ty1DtDKt-08&feature=plcp
Retrieving Akaschic Records: http://www.youtube.com/watch?v=zZFlPwoUULE&feature=plcp
Genetics of Initiation: http://www.youtube.com/watch?v=gz5lMJfnX-E&feature=plcp