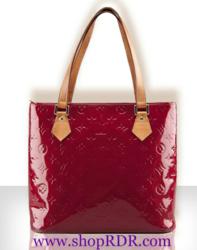 Working on a Chanel campaign is so different to working on a huge film; with Chanel I'm told to pout all I want!
(PRWEB) September 12, 2012
To help luxury lovers stay informed on the latest in upscale style and Hollywood happenings, Rodeo Drive Resale (http://www.shopRDR.com), premier reseller of 100% authentic guaranteed handbags and fashions including top pieces including discount designer shoes, Chanel purses and Louis Vuitton wallets, highlights the latest in celebrity and designer fashion news.
1) LVMH GETS TOUGH ON HERMES: ShopRDR.com is keeping an eye on the feud between LVMH (Moet Hennessy Louis Vuitton) and Hermès, who alleges the French luxury company is attempting to take over its family-owned business. According to Business Insider, Hermès accused LVMH, which acquired a 17 percent stake in Hermès in 2010, of insider trading and manipulating share prices in 2012 a complaint filed in Paris court. LVMH defended their business practices and has since fired back with a few accusations of its own: "LVMH today learned via a dispatch on French media service AFP that Hermès had filed a lawsuit with the Paris prosecutor … For its part, LVMH strongly reaffirms that the acquisition of its stake in Hermès was entirely legitimate and that unlike Hermès, it awaits the outcome of the AMF enquiry with complete peace of mind," read a press release on the company's investor relations Web site. "LVMH has no doubt that the [inquiry] will determine that the Hermès allegations are false and serve no other purpose than to slander and unlawfully undermine another firm in the same industry. As a result, the LVMH Group has had no choice but to file a suit for slander, blackmail and unfair competition."
2) KEIRA KNIGHTLEY GOES GLAM: With her new film, "Anna Karenina," set to hit theaters in November and a wedding to musician James Righton on the horizon, actress Kiera Knightley has a lot on her plate. Luckily, the 27-year-old star has an angel on her side in the form of fashion icon Karl Lagerfield, who reportedly offered to design her bridal gown. "Well, that would be pretty generous of him. He is an incredible designer," Knightley told Vogue.co.uk. But would she let him? "To be honest, I'm working on another film straight after "Anna Karenina," which finishes after Christmas. Then, maybe I'll start thinking about the dress and the guests and the venue. It really depends on what sort of wedding I decide to have - if I go with a jeans and T-shirt option, then maybe it wouldn't be quite right. I haven't decided on anything yet." The 27-year-old star, who has worked with Chanel's Lagerfield in the past, went on to sing praises about previous experiences with the famed designer. "[Karl] really is such a nice man though, when you're shooting with him, he just sits there holding your hand. Working on a Chanel campaign is so different to working on a huge film; with Chanel I'm told to pout all I want!"
3) BLAKE LIVELY, GUCCI GIRL: Now that the popular television drama Gossip Girl is coming to a close, Blake Lively is taking on new career opportunities, including a modeling gig with Gucci, as she has become the face for the luxury brand's latest fragrance. After keeping fans and Gucci lovers waiting, the first ad featuring the 25-year-old actress was revealed earlier this month. In the ad, Lively promotes the scent Gucci Première, which is described by Gucci as being "inspired by timeless Hollywood." In a statement posted online, Lively expressed joy in being chosen to represent the upscale label. "I admire the qualities of the Gucci Première woman and feel honored to represent the fragrance."
Rodeo Drive Resale (shopRDR.com) has built a reputation of providing amazing deals on handbags, clothing and accessories from the top designers of upscale fashion. The company offers a 100% guarantee of authenticity on each item sold, and works daily with a network of clients looking to buy, sell, or for consignment of their luxury goods. ShopRDR.com loves high-end fashion, and believes finding a high quality, classic piece should be an easy, enjoyable -- and most importantly -- hassle-free shopping experience. For the finest in Louis Vuitton, Chanel, Prada, Gucci, St. John Knits, Christian Louboutin, Tiffany & Co. and more, visit RDR online at http://www.shopRDR.com or call 1-888-697-3725.
Also find shopRDR at:
Facebook: facebook.com/shopRDRTwitter: twitter.com/shopRDR
YouTube: youtube.com/ shopRDR
Pinterest: pinterest.com/shopRDR
Rodeo Drive Resale (shopRDR.com)
1-888-697-3725
service(at)shopRDR(dot)com