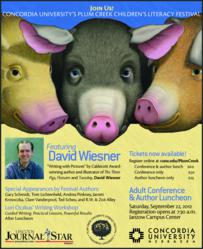 This year's festival will feature nine authors and illustrators: David Wiesner, Gary Schmidt, Clare Vanderpool, Andrea Davis Pinkney, R.W. and Zoë Alley, Jarrett Krosoczka, Ted Scheu and Tom Lichtenheld.
Seward, NE (PRWEB) September 10, 2012
Nearly 10,000 children and adults from across the Midwest are expected to celebrate reading as part of the 17th annual Plum Creek Children's Literacy Festival Sept. 20-22 on the Concordia University, Nebraska campus. The festival connects youth and adults with nationally acclaimed authors and illustrators to encourage literacy and education.
This year's festival will feature nine authors and illustrators: David Wiesner, Gary Schmidt, Clare Vanderpool, Andrea Davis Pinkney, R.W. and Zoë Alley, Jarrett Krosoczka, Ted Scheu and Tom Lichtenheld. These presenters will visit students in Seward-area and Lincoln schools on Thursday, Sept. 20. On Friday, Sept. 21, students from all over the Midwest will participate in literacy activities and attend sessions where they can meet with the authors and illustrators.
The adult conference on Saturday, Sept. 22 will include workshops presented by authors, illustrators and literacy experts. A writing workshop, new this year, will feature literacy expert Lori Oczkus. The adult sessions will be of special interest to early childhood, elementary, middle-level and secondary teachers, reading specialists, home school teachers and media specialists. Books will be for sale during the conference.
The festival also features an art exhibit displaying the illustrations of recently published books. This exhibit is open to the public in Concordia's Marxhausen Gallery, located in Jesse Hall, throughout the month of September.
"Not only does the Seward community benefit from all of these features, I believe they also benefit from working together for the cause of literacy," said Janell Uffelman, festival director. "Seward is a fantastic place to live and grow, and to give forward to the next generation through the present festival experience."
Featured authors and illustrators:
David Wiesner has illustrated more than 20 award-winning books for young readers. He has won three Caldecott Medals and two Caldecott Honor Book awards. Flotsam was a New York Times bestseller and was named winner of the 2007 Caldecott Medal, making Wiesner only the second person in the award's 75-year history to have won three times.
Gary Schmidt is a professor of English at Calvin College in Grand Rapids, Mich. He has authored more than 20 books for young readers, ranging from picture books to young adult novels. His Lizzie Bright and the Buckminster Boy won Newbery and Printz Honors, and his Okay for Now was a National Book Award finalist.
Clare Vanderpool is the award-winning author of Moon Over Manifest, her debut novel awarded the 2011 John Newbery Award. Clare is remarkably the first debut author in thirty years to win the Newbery Medal. Vanderpool favors writing historical fiction based on stories she heard as a child.
Andrea Davis Pinkney is the New York Times bestselling and award-winning author of many books for children and young adults. Her picture books include Sit-In: How Four Friends Stood Up By Sitting Down, a Parenting Publication Gold Medal winner, winner of the Jane Addams Book Award, the Carter G. Woodson Award for historical works for young people, the Anne Izard Storyteller's Award, and the Flora G. Stieglitz Strauss Award for Nonfiction; Sojourner Truth's Step-Stomp Stride, a Jane Addams Honor Book and School Library Journal "Best Book of the Year,"; and Duke Ellington, a Caldecott Honor and Coretta Scott King Honor Book.
R.W. (Bob) Alley has illustrated stories of Paddington Bear by Michael Bond for the last 15 years. A new picture book, Paddington Goes for Gold, and a new novel, Paddington Races Ahead, published in spring 2012 to coincide with the Summer Olympics in London. Bob received the 2010 Theodor Seuss Geisel Honor Award for his illustration of Pearl and Wager One Funny Day by Kate McMullan.
Zoë Alley received her B.A. from the University of New Hampshire, and her Ed.M. from Boston University. She enjoys writing as a career that allows her to sit on the couch – her office! - in her pajamas and play with a pen and paper! The Alleys have collaborated on two large comic-book-style books: There's a Wolf at the Door and There's a Princess in the Palace.
Jarrett Krosoczka began his professional career by illustrating educational readers for a national publisher while still an undergraduate at Rhode Island School of Design. He currently has authored and illustrated sixteen published books—ten picture books and six graphic novels. He is the two-time winner of the Third to Fourth Grade Book of the Year in the Children's Choice Book Awards. His Punk Farm and Lunch Lady series are both in development to be feature films.
Ted Scheu is part poet, part teacher, part entertainer, part kid. Ted's poems are published in over 20 anthologies in the US and England, and in his own four collections, I Froze My Mother, I Tickled My Teachers, I Threw My Brother Out, and his latest, Now I Know My ZBCs. Ted is a former elementary teacher in Vermont. He visits over 60 schools each year helping kids find their own poetic voices in writing workshops.
Tom Lichtenheld is a children's book author and illustrator. He worked as a sign painter, set designer, printer and advertising art director. His first book, Everything I Know About Pirates, was published by Simon & Schuster in 2000 and was featured in Newsweek as one of the best books of the year. His 2011 book Goodnight, Goodnight Construction Site, written by Sherri Rinker, was a #1 New York Times Bestseller.
Festival registration forms available online at cune.edu/PlumCreek. Adult conference registrations submitted after Sept. 14 will require a $10 increase in fees.