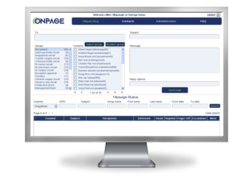 Our goal was to create a highly available, supremely secured and fault-tolerant system with an enhanced user interface. I am extremely proud of what we were able to accomplish.
Yehuda Hofri, V.P. of R&D
Waltham, MA (PRWEB) September 10, 2012
Onset Technology, the leader in secure mobile communication, released today a significant update to its OnPage server software and Web-based Management Console that will revolutionize the way pager and priority communications are executed and managed.
OnPage is a secure two way pager and priority messaging application for iPhone®, iPad, iPod touch, BlackBerry and Android with global service coverage using WiFi or Cell service. The message sent via the OnPage service arrives to the smartphone as a prominent page with continuous alert until acknowledged. The sender is kept abreast of the status of the message and is automatically notified when the message is received and when it is actually read. Additionally, the OnPage service is encrypted, redundant and persistent to ensure NO message is lost.
The OnPage Web-based Management Console is a repository of all contacts and groups within the organization that are using the OnPage messaging. It is one of the ways enterprises can send messages to all or part of its users from a central dispatching location. With many first-of-a-kind, "game-changing" features, the new console ensures delivery of priority messages to the right people, while providing a new level of flexibility in organizing and tracking priority communications.
One such game-changing feature enables THE CREATION OF ESCALATION PATHWAYS, which automatically resends messages to a succession of people if a message is not read by the intended recipient within a predetermined time period.
"The server software and console we developed is a technology leap over the current state-of-the-art in messaging," says Yehuda Hofri, V.P. of R&D at Onset Technology. "Our goal was to create a highly available, supremely secured and fault-tolerant system with an enhanced user interface. I am extremely proud of what we were able to accomplish."
Other features include:

NEW DISPATCHING DASHBOARD: A one screen look at all paging and priority messaging needs with the ability to send out messages faster than before.
ENHANCED USER INTERFACE: A new renovated look with more options and flexibility to send out messages.
CONTACTS & GROUPS: Enterprises can create users' account and assign them to groups.
RETENTION POLICY: Allows enterprises to comply with regulations via automatic export of all their messages onto their own servers and permanently removing them from the OnPage servers.
ADMINISTER ROLES & PERMISSIONS: Enables setting roles and permissions for administrators using the console. Some roles and permissions include the ability to create groups, create contacts, delete contacts, and so forth. Having defined roles and permissions allows Administrators to have the access they need.
COMPLETE FAQ GUIDE: A complete FAQ guide is included in the new console for fast and easy answers to any questions that may arise. The FAQ guide also walks the user through the console and provides directions on how to create escalation groups, set up administrators, and more.
The new Enterprise Web-based Management Console works with OnPage's new and improved server software. With redundant servers in discrete locations, down time is all but eliminated, even during upgrading and maintenance.
"Our new Web-based Console takes enterprise priority messaging to a whole new level," says Judit Sharon, CEO of Onset Technology. "In early 2011, we pioneered hosted priority mobile messaging, offering enterprises a cloud-based solution to their communication needs. Over the past year, we listened carefully to our enterprise customers that are counting on us for their critical messaging, and created a system that precisely addresses their needs."
Since its introduction in 2011, OnPage has become an essential messaging solution for individuals as well as for organizations in a number of industries, including Healthcare, Information Technology, First Responders and the Call Centers that support them. The new Web-based Management Console will consolidate heavy paging volume, and give dispatchers the tools they need to manage, notify, track and audit the priority messaging flow with unprecedented flexibility, ease, and reliability.
ABOUT ONSET TECHNOLOGY
Onset Technology is a leading provider of mobile messaging solutions to organizations with mission-critical emergency communication requirements. The company's OnPage mobile app turns iOS, BlackBerry, and Android smartphones into secure digital pagers, supported by an enterprise-grade messaging platform. The Web-based Management Console helps multi-account clients better manage their pager and priority communications through an ultra-secure, HIPAA, SAS 70 and SSAE 16 compliant, global, and private cloud hosted service with 24×7 support and monitoring. Onset Technology's OnPage is now used by over 1,000 organizations, including those in healthcare, emergency services, information technology, financial institutions, the legal profession, and government agencies. For more information about OnPage, visit the OnPage site at http://www.OnPage.com