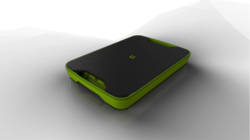 "The more [backers] show their support, the more surprises we have in store for them."
New York, NY (PRWEB) September 07, 2012
On September 4, 2012 Simpleware launched its new perforated cutting board on Kickstarter. In less than three days, 200+ Kickstarter backers have funded over one quarter of the project's goal that is set at $25,000. Because of the cutting board's initial success, founders Ola Ahlmen and Peter Hauser have offered two new rewards to backers; the Early Bird Holiday Pack and Baker's Dozen. What happens when FLOW surpasses its goal? "We are ready to set stretch goals and offer new colors and other fun rewards," mentioned Ahlmen. "We're excited that FLOW has taken off so quickly. We are actively listening to our backer's suggestions, and the more they show their support, the more surprises we have in store for them."
Simpleware's FLOW is the world's first perforated cutting board that allows juices from meats, fruit and vegetables to flow through the cutting surface into a tray, eliminating countertop mess. Waste not, want not; you can then save the juices to use for sauces, gravies, and dressings to accompany your meal. FLOW is made from high-quality FDA approved cutting board materials, allows for easy storage and is even dishwasher safe kitchenware.
Simpleware has retained internet marketing firm Command Partners to facilitate all of their online efforts. "I am thrilled to be working with Peter again after we had such a successful campaign with the COOKOO watch on Kickstarter which raised over $305,000," says Amish Shah, Managing Partner. "FLOW is another awesome product he's developed that will be a game changer in its industry."
With 37 days left to go in its Kickstarter campaign, you can pre-order your FLOW at http://bit.ly/FlowKS in order to recieve it in time for the holidays. To stay up to date on new rewards, "like" Simpleware on Facebook at https://www.facebook.com/simplehouseware.
About Simpleware
Simpleware is a new brand that offers unique kitchen products. Founders Peter Hauser and Ola Ahlmen first created Simpleware with their introduction of FLOW. Peter's design and development background combined with Ola's experience bringing products to market has built the perfect relationship for success. Visit http://www.simplehouseware.com to find out more information on Simpleware.
About Command Partners
Command Partners works with clients around the globe and focuses on the top strategies for driving online visibility and lead generation, including social media marketing, search engine optimization, public relations, strategic advisory and social recruiting. To learn more about the company's services, visit http://www.commandpartners.com.