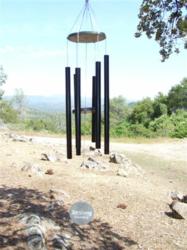 Dallas, Texas (PRWEB) September 18, 2012
The soothing power of wind chimes are being used to help stressed out workers deal with the mounting pressures of work, a Dallas company has found.
Stephen Betzen, who runs EcoWindchimes.com with his wife Rachel, says that increasing numbers of their customers are workers who are looking for a natural way to help relax and relieve the tension created by work.
This follows studies which have shown that the harmonious melody of a wind chime can help the body to release endorphins, a natural drug which is linked to feelings of happiness and contentment.
Stephen Betzen, the company founder, said: "A lot of our customers say they use the wind chime as a way to deal with the various stresses they're placed under in the modern workplace. With the financial climate at the moment, this seems to be a growing trend.
"It's the reason we started this company; because we know from personal experience how the right kind of wind chime can help to transform your mood and eliminate the tension which can build up in our lives.
"It's the reason we feel so passionately about what we do, and we're no different to the majority of our customers. We couldn't imagine life without the sounds of a wind chime in the background.
"Some of our customers even say they record audio of their wind chimes so they can take it with them whenever they're on holiday or away from home."
The potential benefits offered by wind chimes were found in a 2000 study by McCaffrey and Good who discovered that the natural harmonies helped to increase production of beta-endorphins, the body's natural opioid pain reliever which is associated with pleasure and relaxation.
EcoWindchimes supply two types of wind chime; these are the only two manufacturers who have managed to meet their rigorously high standards in terms of a product's tonal quality and its environmentally friendly production methods. The two companies they supply are Grace Note and Music of the Spheres.
Grace Note wind chimes were originally made by two Californian musicians, Jeff and Mark Kile, who came up with an innovative design which allows the chime to produce a sound which is considered to be the 'most musical' ever achieved. The technique they have developed eliminates interference and allows for a crystal clear tone.
Music of the Spheres was founded in 1989 by Larry Roark who started creating the precision-tuned instruments by hand in the garage of his Austin, Texas home. They have now gained a worldwide reputation for their musical qualities and exceptional durability.
All chimes sold by EcoWindchimes.com come with an extensive warranty which covers up to 15 years of general use for some of the designs.
###
ABOUT ECO-WIND CHIMES:
Stephen and Rachel Betzen launched EcoWindchimes.com in 2005 with a passion and commitment to find only the highest quality products, made using environmentally friendly methods. The core values of the Dallas based company are ethical standards, ecological sustainability and supporting local economies. The company supplies only products which are able to meet these standards. The company continues to develop and will be looking to extend their range of ecological products and to launch a backyard habitat store which will complement their online presence.