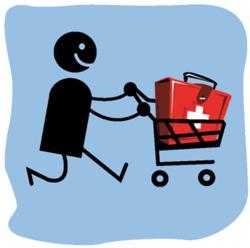 (PRWEB) September 10, 2012
Zane Benefits, which provides businesses with flexible and comprehensive alternatives to employer-based health benefits, today announced the availability of its recent webinar, "Understanding Private Heath Exchanges", on-demand.
Numerous entities ranging from start-ups to new divisions of leading insurance companies have been created to offer new Private Health Exchanges. The term "private health insurance exchange" has become one of the biggest health related buzzwords of this decade.
So, what is a private health insurance exchange? Webster defines an exchange as a place where things or services are exchanged, such as a store or shop specializing in merchandise usually of a particular type.
Employers and health insurance brokers should download this webinar to learn what a private health exchange really is: a store or shop specializing in health insurance merchandise.
During this 60 minute webinar, viewers will learn:

What a private health exchange really is
The difference between a public and private health exchange
What insurance options are available in private health exchanges
How insurers and brokers can offer private health insurance exchanges
The role private health exchanges will play in 2013, 2014 and beyond
About the Presenter:
Rick Lindquist is President of Zane Benefits, Inc., the leader in defined contribution employee health benefits. Zane works with brokers, agents and CPAs to transition clients to defined contribution healthcare solutions. Rick joined Zane in 2007 and was appointed President in 2011. He is a regular contributor to ClarifyingHealth.com and other health benefits publications. Rick received his B.S. in Economics and B.A. in Computer Science from Duke University.
DOWNLOAD THE WEBINAR ON-DEMAND NOW
---
About Zane Benefits, Inc.
Zane Benefits, Inc, a software company, helps insurance brokers, accountants, and employers take advantage of new defined contribution health benefits and private exchanges via its proprietary SaaS online health benefits software. Zane Benefits does not sell insurance. Using Zane's platform, insurance professionals and accountants offer their clients a defined contribution plan with multiple individual health insurance options via a private health exchange of their choice.