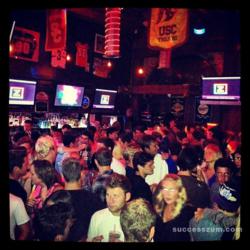 Los Angeles, CA (PRWEB) September 07, 2012
züm, the first iPhone app that allows users to send "no-regrets" video messages to their friends, kicked off their nationwide college tour on September 5th at the 901 Bar & Grill, USC's most popular local hotspot.
Hundreds of USC students fresh off of sorority and fraternity rush gathered at the 901 Bar & Grill, USC's most famous local bar, to celebrate the launch of züm. Co-eds enjoyed being some of the first to adopt the züm technology and spent the night sending züm video messages to their friends that were projected on big-screens for all to see.
Bartenders even got in the züm spirit, offering drink tickets for the neon drink of the night, an Adios Mother F****r, to students for being active zümers. Neon was, as always, a theme of the night, and by midnight, the entire crowd became a sea of neon pink züm bro-tanks.
The event also marked the kick-off of züm's nationwide college tour. This was the first stop for the team, who will be travelling across the country to visit a number of the nation's top universities to party, züm, and leave with no regrets.
For more information on züm and to view more photos from the event, visit http://www.successzum.com/. The app is now available for download from the iTunes app store, or by clicking this link: http://bit.ly/gozum
About the company behind züm, Divide Nine:
Divide Nine is uniquely positioned at the intersection of entertainment, feature animation and social technology. With a team of seasoned, heavy hitting industry execs combined with emerging, fresh talent, Divide Nine is a rapidly growing studio at the heart of LA Technology and Entertainment. Krishna and Lisa founded Divide Nine in 2008 after successful tenures as top executives at companies such as Philips Electronics, MySpace, and Ticketmaster. For more information visit http://www.dividenine.com.
Media contact and press RSVP's: Jenn Deese, Melrose PR, jenn(at)melrosepr(dot)com, 310-450-7960, melrosepr.com