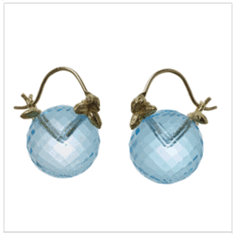 (PRWEB) September 07, 2012
Many years ago, a budding jewelry designer stumbled upon a pearl dealer's booth on 47th Street in New York City. Her eyes were instantly mesmerized by the endless color and shape variations of the pearls harvested from around the world. Day after day, she visited Charlie Bakhash's infamous booth to browse his collection, and speak with him about each type of pearl's origins, luster, shape and quality. The sight of his pearls slowly and surely ignited a passion inside of her that would ultimately define her as one of the most beloved pearl jewelry designers of this era. Women all over the world wear Gabrielle Sanchez's signature pearl jewelry creations. Her famous following includes Katie Couric, Vanessa Williams, and Kim Bassinger.
Today, American Pearl is pleased to announce its alliance with famed pearl jewelry designer Gabrielle Sanchez. The renowned pearl wholesale distributor will feature Sanchez's exclusive line of pearl flyer earrings. This event marks a true full circle return from American Pearl founder's 47th Street booth to the company's current showroom on Fifth Ave. Where once Charlie Bakhash provided inspiration to Sanchez, she now provides the Bakhash family business' clients with visually stunning, heirloom-quality pearl earring sets. These alluring pieces are perfect for both formal and casual wear.
American Pearl invites its customers to browse Sanchez's pearl flyer earring collection on their website or at its Diamond District showroom. The striking, ingenious pieces boast naturally colored pearls set amongst "wings" that also skillfully serve as the earrings opening and closing mechanisms. The company will be featuring a total of 30 of Gabrielle Sanchez's pearl earring sets.