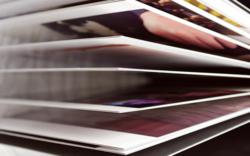 Our prices are all over the place, ranging from $200 per hour to the elite package of $10,000
Palo Alto CA (PRWEB) September 19, 2012
BrideBox, a leading wedding album creation service offering a design platform and full range of albums for modern do-it-yourself couples, shares market data and experience on the question of "how much should I pay for a wedding photographer."
A question we at BrideBox are asked most often is, "How much should I pay for my wedding photography?" says Chanan Steinhart, CEO of BrideBox" The simple answer should be: the lowest price you can get for the quality you are after. Simple, but not a lot of help"
Once upon a time, the only photography products available were prints and albums made of prints, and the bride bought those prints and albums, paying for whatever it took to make them.
Today after the digital revolution, things are significantly different. For starters, you don't really need to print anything to view the pictures, and new digitally printed products became affordable and wide spread. Furthermore, owning and receiving the digital files has become almost the standard.
The dramatic changes of the past 5-7 years in the photography business have significantly impacted the wedding photography eco-system; the way the service is packages, the product offered and the pricing structure.Now, the average wedding photographer can cost anywhere from $1200-2000. An experienced professional wedding photographer can cost over $2500, but what exactly are the bride and groom paying for? And will they get the most for their hard earned money?
To help navigate through the confusing landscape BrideBox has compiled a detailed overview of the wedding photo market place from the perspective of brides and photographers reviewing key issues, common market pricing and optional products, this overview is open to all on BrideBox blog The overview not only gives interesting statistical facts about the wedding photography industry, but also tips and questions to ask during selection process of a wedding photographer:
Get a really good idea of how much of the photographer's time you'll require. How many sessions and what duration? (For example, 3-4 hours at ceremony and 5-7 hours at reception.)
How many photographers will you need? (A second shooter, or assistant, is always recommended.)
Full Details at Bridebox's Wedding Blog
About BrideBox
Bride Box is devoted to helping couples design their own wedding albums without sacrificing the top quality materials and photo finishing that mark a professionally produced album. BrideBox combines years of wedding photography expertise and a proprietary process that gives consumers access to products previously only available through photography professionals. The BrideBox line of wedding albums offers unmatched quality, combining the benefits of technology with the skills and individual attention of imaging professionals. BrideBox is a division of DigiLabs, Inc., a privately-held company that creates superior photo products available through professional photographers. Find BrideBox on Facebook at http://www.facebook.com/bridebox or for more information, go to http://www.BrideBox.com.