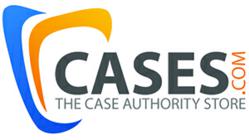 we make it a goal to be innovative in providing customers with the information they want
Aurora, CO (PRWEB) September 10, 2012
Cases.com – which has long been known as one of the Internet's top mobile case providers – has reimagined its look and functionality to allow for an enhanced user experience that lets visitors learn about and purchase hundreds of the world's top cases.
Although Cases.com has been a top seller of fine leather cases, as well as other fun and functional cases for years, owner Slava Pupko believes these changes will provide customers with an even better user experience.
"We understand why we have been one of the top mobile case providers for years," Pupko said. "Simply put, we make it a goal to be innovative in providing customers with the information they want. I think the new site is evidence of this continued thinking."
Because many of those who visit Cases.com want to stay abreast of news about new cases and other changes in the mobile world, Cases.com now features a blog that includes some of the most up-to-date information about the smartphones, tablets, cases and other gadgets people are talking about.
"We look at our blog as a way of providing the information that is most important to our customers in a timely manner," Pupko said. "Those who follow the RSS feed or subscribe to our Facebook, Twitter, Pinterest or Google+ accounts are gaining quick access to some great information that they may not find elsewhere."
Another well-received new addition is the easy-to-navigate browsing feature that allows users to quickly and efficiently find all of the cases included on the site based on personal preferences.
In just a couple of clicks, a Cases.com visitor can choose to browse for cases by the case maker or by the product for which he is trying to protect.
When a user locates the page that features the available cases for a device or case maker, she only needs to click the mouse once more to find either the top-rated, best-selling, or least-expensive cases.
Another important addition made to the site is the "noticification" service. This service allows visitors of the site to be immediately notified when the case for which they are searching is added to the site's stock – yet another tool that is designed to help customers easily find the cases they want.
Cases.com is operated by Aluron, Inc. Among other things, the company specializes in providing high-quality imported leather cases for mobile devices such as smartphones, tablets, and other handhelds. The company keeps its cases stored in its Aurora, Colorado-based warehouse, which allows for easy access and quick delivery to customers.