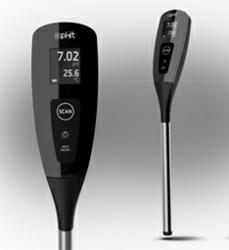 Frost & Sullivan's recognition of Senova Systems' breakthrough reaffirms the impact that the pHit platform is likely to have on the nearly billion-dollar annual market for pH measurement.
-Lee Leonard, CEO
Sunnyvale, CA (PRWEB) September 10, 2012
Frost & Sullivan, a global research organization of 1,800 analysts and consultants who monitor more than 300 industries and 250,000 companies, has designated Senova Systems Inc. as the recipient of the 2012 North American New Product Innovation Award for pH Sensors. Although pH is one of the most important and vital properties of nature, Frost & Sullivan notes that the electrodes currently being used to measure pH suffer from a multitude of shortcomings. Senova Systems is introducing a new pH sensor platform using patented chemistries coupled with advanced materials and proprietary electronics. In various form factors, it will disrupt existing applications and enable previously impossible pH measurement applications.
Despite being introduced to the scientific world more than 70 years ago, today's pH meters still rely on fragile, multi-chamber, hand-blown glass electrodes that require frequent and complex user calibration, suffer from fouling and signal drift, and require storage in saturated electrolyte solutions between measurements. The market for pH meters has seen few, if any, truly disruptive technological breakthroughs, until now.
Senova Systems is about to revolutionize the world of pH measurement with the introduction of the pHit handheld pH scanner. Unlike traditional pH electrodes, the pHit scanner requires no user calibration and contains no glass (virtually eliminating the possibility of breakage). Moreover, there is no need to store the sensor in saturated electrolyte solutions between measurements. Together, these features result in significant risk reduction and time-savings for the end user.
"Frost & Sullivan's recognition of Senova Systems' breakthrough reaffirms the impact that the pHit platform is likely to have on the nearly billion-dollar annual market for pH measurement. It will be an honor to receive the Frost & Sullivan award on behalf of Team Senova at the Growth, Innovation and Leadership (GIL) banquet in San Jose on Tuesday evening," commented Lee Leonard, CEO of Senova Systems.
About Senova Systems, Inc.
Senova Systems develops, manufactures and sells next-generation sensor systems based on coupling its patented chemistries with advanced materials and proprietary microelectronics.
Senova Systems' first focus is a revolutionary new pH sensor platform, which replaces current glass electrodes with solid-state, smart sensors that contain no glass and require no user calibration. This breakthrough offers significant operational and economic benefits in the life science, food and beverage, dairy, petrochemical, water and environmental sectors, and will ultimately enable novel advances in healthcare and other specialized applications unachievable with conventional pH electrodes.