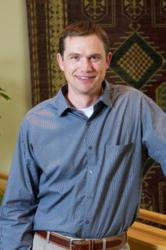 The internet has revolutionized the way we as a society get information. Medical information, specifically oral health information, is no exception.
Colorado Springs, CO (PRWEB) September 10, 2012
Family dentist, Matthew J. Burton, DDS, has announced the launch of a new, patient-focused website created by dental website design leader, ProSites, Inc. Dr. Burton's practice is utilizing the website to educate the community on the importance of oral health. The website includes a blog with current dental news as well as a frequently asked questions page to address common concerns on topics ranging from oral hygiene to difficult dental procedures such as our Colorado Springs dental implants.
"Our website is a forum for getting information out on many different topics in oral health. Many questions can be answered in our FAQ section." Dr. Burton continued on to say, "Our constantly changing blog is a great way to hear about topics you may not have thought about or get a pearl or two to ponder. If you have a question that is not found on the site, then we are happy to answer any questions personally; we may even put the question and answer in the blog for others to see -- just shoot us an email!"
The website possesses interactive attributes including educational videos and a free Smile Gallery feature to help patients make better informed decisions about their oral health. Current and prospective patients now have access to information about the doctor and his team, helpful dental links, before and after photos of dental procedures, and other informative content when they visit the website. Some of the services offered by Dr. Burton include:
Cosmetic Dentistry
Implant Dentistry
Family Dentistry
The website also utilizes extensive search engine optimization techniques to reach patients and local consumers who are searching for a Colorado Springs cosmetic dentist to learn more about the services available for rejuvenating your smile.
"The internet has revolutionized the way we as a society get information. Medical information, specifically oral health information, is no exception. The key is to get accurate information, which is why having a website with answers or an active blog can disseminate good data about dentistry for people who are sifting through all of the 'noise' that is out there," said Dr. Burton.
About Matthew J. Burton, DDS:
Dr. Matthew Burton received his Doctor of Dental Surgery degree from the University Of Oklahoma College Of Dentistry in 2001 and graduated with high honors. Dr. Burton continues to keep his knowledge and skills current through continuing education on the latest technology and clinical procedures. He utilizes a broad range of these technologies at his practice including digital X-rays, intraoral cameras, and computer guided surgery for the placement of dental implants. Dr. Burton is a member of the Colorado Prosthodontic Society, the Academy of Osseointegration, and the Academy of General Dentistry. He also has the privilege of being distinguished as a member of the Omicron Kappa Upsilon, the national dental honor society. For more information on Matthew J. Burton, DDS, please visit the website at drmattburton.com.