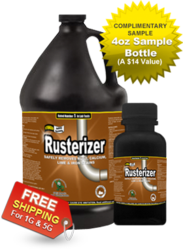 Particularly, the use of Rusterizer saves its users and even others from allergies, poisoning and breathing difficulties.
Seattle, WA (PRWEB) September 20, 2012
Rust can damage anything. It's a simple and plain fact that makes rust removal an essential process in almost every place. However, the conventional rust treatment, which is the use of rust solutions, often bring in health problems. So to make rust removal a safer cleaning process, Rusterizer gives it an upgrade by using natural ingredients in its rust spray.
Get a Sample of Rusterizer's Green and Safe Rust Spray
Basically, rust or metal corrosion can cause physical or structural damages. Its presence can make an item or surface look unsightly. If not immediately treated, it can weaken a structure as it can separate its adjoining parts. Needless to say that can cause accidents. Apart from that, rust can also render a tool completely useless.
Hence, promptly after a corrosion is discovered, rust treatment must be implemented. That can help maintain the aesthetic value of a piece. Immediate rust removal can also save any rust sufferer from unnecessary spending for replacing or reconstructing rust-damaged items or surfaces.
But of all the rust removal methods, health-wise, manual treatment is the safest to implement. The problem is, it is also the most laborious as it requires hours of scrubbing. Besides that, it also does not guarantee a positive result as in some cases, rust-stain settles into the materials so deep and quick.
So for a rust treatment that is easier and faster to complete, a rust removal spray is needed. However, to make sure that the process remains safe, Rusterizer.com said that the product to use should also be proven safe. And as it stated, it just got the perfect rust removal product for that ideally safe rust treatment without compromising the effectiveness of the process.
That product the company was referring is also called Rusterizer. It is made with natural ingredients and so it is non-toxic. And given that it contains no harsh chemical ingredients, the product does its work without leaving any element that could harm the health and the environment, explained the company representative.
Make Your Rust Treatment Safe and Effective. Grab a Rusterizer Today
Particularly, the use of Rusterizer saves its users and even others from allergies, poisoning and breathing difficulties. The fact that they are organic-based also makes them safe to use on almost all types of materials. Those two advantages specifically spare the product users from more expenses for some medical treatments and many different rust sprays. And basically with that, they spell savings.
But to prove that Rusterizer can truly deliver a safe and effective rust treatment, its manufacturer decided to give a sample of it to anybody who would want the product tested. Apart from, to show that it highly values its clients, it also chose to waive the shipping fee for anybody who would order it this week.
Take Advantage of Big Rusterizer Savings. Order the Organic Rust Spray Now