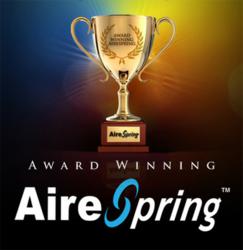 The time has come for for businesses of any size to simplify, integrate and move their communications to the cloud.
Channel Partners Expo, Orlando, Florida (PRWEB) September 13, 2012
AireSpring today released version 2.0 of its award winning Cloud Hosted IP PBX product. AirePBX has been enhanced with even more cutting edge features and options. Businesses can now transition to IP communications with confidence and achieve better cost savings across their enterprise with the new cloud hosted business communications solutions from AireSpring.
In addition to free Local, free Interoffice Calling, free Proactive Network Monitoring, free Phones and optional Unlimited Long Distance, AirePBX offers HD voice, a full featured Auto Attendant, the ability to Swap Devices mid call, Advanced Call Routing, Find Me - Follow Me, Simultaneous Ring, Caller ID, Call Forwarding, Call Park, Call Transfer, Conferencing, Fax to Email, Unified Visual Voicemail, Three-way Calling, Toll Free Numbers, Virtual Extensions, Advanced Online Management Portal, and much more. All features and options are fully customizable from a robust, but simple, online management portal.
AirePBX offers five advantages unique to the Airespring offering, included at no additional charge: 1) An Enterprise Session Border Controller which allows end-to-end Quality of Service (QoS) and Class of Service (CoS) control of voice and data traffic. 2) Professional onsite installation and activation of all equipment, including IP phones. 3) Free advanced IP phones for every user. 4) Automatic Proactive Network Monitoring. 5) Cloud services are delivered over Airespring's award winning nationwide fully managed next generation IP backbone.
Additionally, customers with private data MPLS needs may layer AirePBX (or any of the company's voice and data products) over Airespring's advanced national MPLS Mesh network.
"Today's businesses, with multiple locations of varying sizes, often have a mismatched set of differing telephony infrastructures. This creates confusion and lost efficiencies in the enterprise. The time has come for businesses of any size to simplify, integrate and move their communications to the cloud," stated Daniel Lonstein, AireSpring COO. He continued, "AireSpring seeks to make communications robust, secure and affordable. We believe that one of the key differentiators of our service is the ability to connect to the cloud via a fully managed end-to-end network. Which means your voice and data don't mingle with the insecure public internet. All of your offices can and should connect seamlessly on a single network with a single full featured next generation phone system."
Todd Regan, Airespring Senior Vice President Marketing added, "Some providers make you choose a package, or force you to pay extra for the individual features you need or want to try. At AireSpring, we'll give you our Cloud Hosted IP PBX fully-loaded for one simple low price. Everything you need and more without confusion or unnecessary added expense. You'll find amazing new features, like Call Jump (which let you change devices mid-call), which you never knew you needed until you use it. AirePBX is a revolution in the way businesses connect and we seek to make it easy and affordable for everyone to give it a try. How many times have you upgraded your cell phone in the last 10 years? Isn't it time that you upgrade your office phone system to the next generation of IP based communications as well?"
AireSpring has gained recognition as one of the most dynamic providers in cutting edge cloud services. AireSpring Voice, Data, and Integrated products are continually recognized by customers and partners as robust, flexible, and affordable. Over the past several years, AireSpring has earned its reputation as the most highly awarded IP communications company. AireSpring consistently offers lowest cost High Speed Internet, Voice, and SIP Trunking services utilizing an award winning next generation enhanced IP network.
Telecom Agents, Resellers, Consultants, and customers looking for more information about AireSpring's products and/or partner programs should visit AireSpring's Partner Program page.
About AireSpring:
Headquartered in Los Angeles, award winning AireSpring is one of the fastest growing telecommunications carriers in the USA, with over 5 billion call records processed every year. AireSpring is a privately held, diversified, debt-free, and full service communications company which offers a broad range of innovative telecommunications services at competitive rates.
AireSpring offers next-generation voice, data, integrated, SIP/VoIP, and conferencing products designed to deliver power and flexibility at cost-effective rates. AireSpring has been voted "Product of the Year," "Best Telecom Deal," "Members Choice top reseller," "Top SIP Trunking Provider," and "Top Channel Program" in recent years. Telecom agents and Value Added Resellers can find more information about AireSpring's Agent/VAR program at the AireSpring Partner Contact Us page, or by contacting Todd Regan at (818) 786-8990, ext 374.