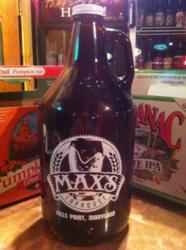 What better way to enjoy the 5th annual German Beer Festival at Max's Taphouse than to take some German beer home with you.
(PRWEB) September 11, 2012
For the past year, General Manager Casey Hard of Max's Taphouse (http://www.maxs.com), has been searching for new and exotic German Beers (http://www.germanbeerinstitute.com/styles.html) that most people have never tasted. The 5th annual German Beer Festival in Baltimore will have over 80 rotating German Beers on draft with over 60 German bottled beers. "It's not that we set out to make it even grander than the year before, but the German brewers hear what a loyal beer following we have and they send us something special," says owner Ron Furman. Beer expert Casey Hard explains "we will have some amazing authentic German gravity kegs, some which have never been in the United States before and you will only be able to sample them here at Max's Taphouse." Max's Taphouse is the only tavern to have Schneider Edel Weisse in a German 90 liter wooden gravity keg; it's extremely rare and one of a kind. In addition to Max's having the authentic German beer, they will be served in authentic beer glasses such as sample glasses, pint glasses, beer steins, one-liter boots and two-liter boots. Some German beers we will have available will be Hacklberg Hochfurst Pils, Fritz Briem 1809 Berliner Weisse Zymagore, Aecht Schlenkerla Weizen, Acrobrau Zwicklbier, Hofbrau Oktoberfest, Schlaegl Roggengold, Stift Engelsell Benno, Innstadt Stadl Bier, Schneider Hopfenweisse, Bahnorf Leigziger Gose, and Hofstetten Granitice. To compliment the German beer experience, Max's Taphouse has a full German inspired food menu including authentic German sausage. "In order for our customer to fully experience the German flavor of the beers, they have to eat appropriate German food and savor the flavors of how the food compliments the beer they have chosen," says Food and Beverage Manager Robert Simko. "Not only that; it's fun to hear our customers try and pronounce the name of the beer they want!" The German Beer Festival is open daily from 11 a.m. until 2 a.m. There is no admittance fee to enter the German Beer Festival at Max's Taphouse.
What better way to enjoy the 5th annual German Beer Festival at Max's Taphouse than to take some German beer home with you. Max's proudly introduces their growler that is filled in front of you with your favorite beer selection. Customers then take their beer home with them, refrigerate appropriately and enjoy their beer at their leisure. "We cannot think of a more enjoyable way to continue the Max's Taphouse experience than to take a piece of us home with you. The best thing is that after you clean your growler, you can bring it back to us and get it re-filled with an entirely different beer for your consumption at home, or your friends home," says Furman. The amber glass jug is one gallon and may be purchased up to midnight daily.
The day the previous German Beer Festival ends, Max's Taphouse is already working on the next year's event. Casey Hard begins the rigorous task of speaking with the brewers to see if they have anything unique never before released in the United States. The local distributors start searching for product that this Maryland location has never had the ability to offer before. Our ingenious staff begins searching our reclaimed wood supply so that it will assist us in displaying what the German Beer Festival truly is and how to entice others to experience our efforts. Food purveyors search to find us the perfect German food. Our knowledgeable staff starts learning the proper pronunciation of the beers they will be serving. "Ultimately all the pieces fall together and the beer, food and staff make it all come together for the customer's enjoyment," says Furman. "It is remarkable all that has to occur to incorporate the German Beer Festival into our business but our talented staff make it look easy." According to Casey Hard, Max's Taphouse anticipates a record crowd inside to celebrate the breweries and all Max's Taphouse has to offer.
A Baltimore privately owned institution since 1986, Max's Taphouse is located at 737 S. Broadway in Fells Point, Maryland and is open daily from 11 a.m. until 2 a.m. Come visit resident beer experts Casey Hard and Robert Simko and the entire staff of beertenders to assist you in sampling something new and exciting. To further accentuate your beer palate, the kitchen is open Sunday through Wednesday from 11 a.m. until 11 p.m. and Thursday through Saturday from 11 a.m. until midnight.