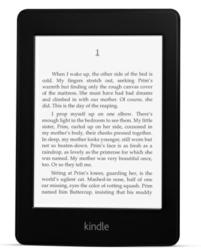 The Paperwhite WIFI, 3G and Special Offers editions are all available at Shop e-Readers
Vancouver, BC (PRWEB) September 09, 2012
Amazon has just announced a family of new devices that are taking the world by storm! The new Kindle Fire HD and Kindle Paperwhite glowing e-Reader are available for international customers at Shop e-Readers.
The new Kindle Fire HD 8.9 features a 8.9-inch, 1920 x 1200 display (254 ppi). One of the great aspects of the screen is that it is high-res and has a polarizing filter that drastically cuts down on the glare. Underneath the hood is a TI OMAP 4470 processor, which promises to keep thing speedy. It also has dual speakers, a front-facing HD camera, and HDMI out. One of the most exciting features is the new dual WIFI antenna, that will give you a faster internet connection then anything else on the market. This is the perfect device for someone who wants to watch 1080 P movies and enjoy a greater portability then the iPad. Various models are coming down the pipe with 4G/LTE internet access and normal WIFI models.
The second new Kindle Fire HD features a seven inch screen with 1280 x 800 here resolution. This basically puts it on par with the Google Nexus 7. According to Amazon, you can expect 11 hours of battery life from the 7-inch model.
Kindle Paperwhite is Amazon's answer to the Barnes and Noble Simple Touch with Glowlight and the new Kobo Glo. It features a six inch e-ink Pearl display with 62% more pixels for unsurpassed resolution and 25% better contrast for sharp, dark text. There are different options for this e-reader such as Special Offers and 3G internet access. The great thing about the 3G connection is that you don't have to pay anything for it, which makes it a solid investment.
All of these new devices are simply not available outside the USA. Amazon does not ship or sell them and Shop e-Readers will distribute these new products to customers worldwide.
Peter Carotenuto of Shop e-Readers said "I was at the launch event in Santa Monica a few days ago and saw these products in person. The new Kindle Paperwhite is simply the best e-reader in the world that lets you read in the dark. You can tap into a very extensive Amazon Bookstore and download millions of books, magazines and newspapers. The new Kindle Fire 8.9 is Android's answer to the Apple iPad. You can watch 1080P movies on it and talk to your friends with Skype. It seems Amazon really looked at what people wanted from their first generation Kindle Fire and gave it to them.
The Amazon Kindle Fire HD, Paperwhite and updated models of the original Kindle Fire and Kindle Touch are available for order now from the worlds most trusted source of e-readers. Many K12 Schools and Universities in Canada turn to Shop e-Readers as the #1 source for the digital classroom.