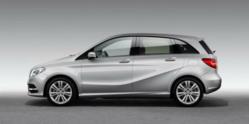 Volkswagen and Mercedes-Benz are making automotive history with the XL1 hybrid-diesel and the B200 natural gas car.
Campbell, CA (PRWEB) September 09, 2012
Volkswagen XL1 Hybrid Sighted by Spy-Cams
Volkswagen's XL1 hybrid concept car might see production by the 2014 model year. Test cars have been secretly filmed recently, and there is much speculation that the 240-mpg hybrid-diesel will eventually see full production runs. The XL1 which was on display at the 2011 Qatar Motor Show had a carbon fiber body and weighed 1,700 pounds. The gull-wing doors, inset rear wheels, and rear view camera system all mark the car as unique, and its expected sticker price is guessed to be in the over-$100,000 range. For the complete story, see:
http://www.myperfectautomobile.com/volkswagen/volkswagen-xl1-hybrid.html
Mercedes-Benz Natural Gas Car Headed for Paris Show
Mercedes-Benz has just announced that it will debut its B200 natural gas vehicle at the Paris Motor Show this September. The 125-liter fuel capacity, three-tank CNG car will go on sale by March of 2013. Using its 'Energy Space' design concept for the first time, Mercedes-Benz reports that the B200 will feature a top speed of 125 mph and a zero-to-sixty time of 9.1 seconds. As a backup fuel system, the car has a 3-gallon gasoline tank which is activated only after the natural gas tanks run dry. For the complete story, see:
http://www.myperfectautomobile.com/natural-gas-2/mercedesbenz-natural-gas-b200.html
About MyPerfectAutomobile:
MyPerfectAutomobile (MPA), a California-based news source for the hybrid, electric, and alternative-fuel transportation sector, covers breaking news on the green car front.
The MPA flagship website has grown into a major presence on the Internet. It features a complete shopping mall as well as a free-to-list classifieds section for all things green. For advertisers, MPA offers the chance to be in front of over 20,000 readers each month who are interested in hybrids and electric vehicles, as well as sustainable transportation in general.
Bob Twaalfhoven: President and Founder of MPA, is an MIT-educated engineer whose primary interest is planetary sustainability.
Larry Judkin, General Manger and Sales Coordinator, has tasked himself with taking MPA to the number-one spot among green transportation websites.
MPA's offices are located at 307 Orchard City Dr., Suite 210, Campbell, Calif. 95008.
For advertising opportunities, contact MPA directly: Phone: 408-963-6427 Fax: 408-963-6730 Email: driven(at)myperfectautomobile(dot)com Web: http://www.myperfectautomobile.com