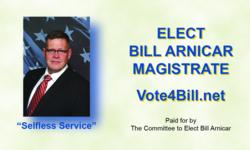 "For a local politician trying to get their message out this is the best thing I have seen in years. No other single produce does what this little card can do," Bill Arnicar.
Jamestown, NC (PRWEB) September 11, 2012
This year politicians running for office have a new tool to help them get the word out. Political Advertising can be very difficult for local politicians, but Wall Printing has developed a unique solution. It is a card that is the size of a business card but has four panels that make a never ending loop. The design is so unique that people remember it and the message that is written on the card.
"This is the most remarkable card I have ever seen," said Bill Arnicar who is running for office in West Virginia. "For a local politician with limited funds this is one of the best ways to get our message out." Since it is the size of a regular business card, it is easy to hand out. Its uniqueness helps people remember it and the candidate whose name is on the card, plus they'll show it to others.
The card has four panels which makes it possible to create a powerful message. There is no other single product out there that can do what this little card does. It allows politicians to tell their story in a form that people find interesting and won't forget. For local politicians, having their message remembered is a big part of the battle, especially in a presidential election year. This card is an effective way to accomplish this goal.
About Wall Printing Company
Wall Printing has been creating unique die cut printing since 1986. Their expertise is in helping clients create something that is so unique that people remember it and the message. They have been serving the apparel, hosiery and furniture industry and work through a national distribution network.