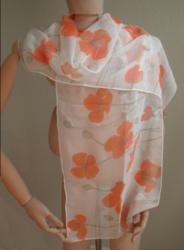 I use watercolors in a way that diverges from standard methodologies.
Newport Beach, CA (PRWEB) September 10, 2012
Orange County, CA watercolorist, Jill Rosoff, is one of only eight artisans invited to participate in this year's Alzheimer's Association Caregiver Luncheon and "Artists in Action" Festival, Friday, September 28 at the Newport Beach Marriott.
Each year, the Visionary Women Circle of the Alzheimer's Association honors Orange County caregivers who display extraordinary compassion in caring for those touched by Alzheimer's disease and related forms of dementia.
The eight artists of different mediums will produce a piece of work on site during the Festival Shopping and Social hour, from 10:00am–11:00am preceding the luncheon. Jill Rosoff will demonstrate the silk painting process, using her watercolor techniques on fabric. "I work primarily in watercolors," says Rosoff, "and I love to explore their intrinsic, painterly qualities. I use them in a way that diverges from standard methodologies." Original scarves will be available for sale. Each artisan will give back to the organization by donating a piece for the drawing as well as 20% of any sales.
Her scarves are an offshoot of her prolific body of work in watercolor paintings.
"I've always enjoyed combining real imagery with an indulgence of color and pattern, playing them off one another, finding that point between them where one "wakes up" the other."
Jill has often thought about wearable art and offering something fun to wear with her paintings as the fabric design. Learning the silk-painting technique allowed her to do that, applying watercolor painting and composition to designs in the silk dyeing process.
Tickets are still available for the luncheon, where actress Shirley Jones will be the guest speaker. To purchase a ticket, buy a table, or sponsor the event, visit the Alzheimer's Association Visionary Women website.
And for a sneak peak at Jill's scarves and paintings, visit Rosoff Artworks.