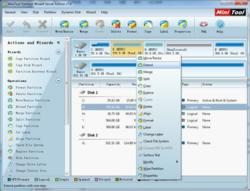 One click to extend partition with MiniTool Partition Wizard v7.6
Vancouver, B.C. Canada (PRWEB) September 13, 2012
MiniTool® Partition Wizard v7.6 released with new feature - "Extend Partition". User can take advantage of this new feature to extend disk partition with simple click.
Before v7.6, extend partition requires user re-size other partition(s) on the disk to create unallocated space in the first step. Many users do not aware of this extra step when first time use Partition Wizard. With MiniTool® Partition Wizard v7.6, this is no longer an issue. User can use "Extend Partition" feature to take space directly from other partition and extend target partition. Unallocated space is no longer required when extend partition.
This new feature gives user much more convenient and reduces confusion especially for the first-time user. Best of all, Extend Partition feature is included in the MiniTool® Partition Wizard v7.6 - Free Home Edition. User can download this software from our web site and use this software without any charge.
With over 6 million downloads, MiniTool® Partition Wizard quickly become one of the most popular disk partition manager software all over the world. Commercial and enterprise users can use Partition Wizard Server Edition or Enterprise Edition to manage Windows Server partition.
About MiniTool Solution Ltd.:
MiniTool Solution Ltd is a software company dedicated to data recovery software and disk management software development. Today, MiniTool continues to lead the industry in innovation with its award-winning Partition Wizard application and Power Data Recovery application. For more information about MiniTool and Partition Wizard 7.6, please visit http://www.partitionwizard.com.