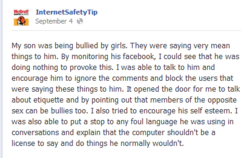 "When your son/daughter stops talking or telling you what's going on in their life, it's wonderful that you can still rest assured that they're safe!" - InternetSafetyTip.com
Fort Lauderdale, FL (PRWEB) September 12, 2012
While there are dozens of websites offering Internet Safety Tips, nothing speaks better to a parent than advice from another parent who has previously dealt with a situation confronting them. InternetSafetyTip.com, from McGruff SafeGuard, lets parents learn from and help one another in a collective effort to keep their kids safe online.
InternetSafetyTip.com allows parents to contribute their stories and advice on Internet safety for other parents to read and ask questions. Those tips the McGruff SafeGuard staff deem are the most helpful are sent to all parents who participate and opt-in to receive them via email. They are also posted to the Internet Safety Tip Facebook page located at facebook.com/InternetSafetyTip
"Parents send us tips, advice and stories on Internet Safety every day that could benefit other parents," said Marty Schultz, director of McGruff SafeGuard. "We realized that the best way we can help parents is to share these stories with the parents of children and teens everywhere, so we launched InternetSafetyTips.com."
A recent McAfee study underscored that parents are losing the battle with their children for online control. It found that:

70% of teens hide their online behavior from their parents
43% of teens have accessed simulated violence online
36% have accessed sexual topics online
32% have accessed nude content or pornography online
21% use an internet-enabled mobile device to hide their surfing behavior
23% of parents surveyed don't monitor their children's online behaviors because they are overwhelmed by technology
With smartphones, the situation is even more dire. A recent McGruff SafeGuard survey found that:

74% of kids spend at least one hour, and 48% spend over three hours, per day online on their smartphone
The top two fears parents expressed about this online activity is their child seeing something inappropriate for their age - with blocking porn the number one concern followed by chat, violent sites or connecting with a predator
While 93% of parents have discussed Internet safety with their kids, 75% still fret that friends or peers will convince their child to view content they have forbidden.
"All parents want to keep their children safe. While there are many products that parents can use to ensure their child's well-being, we've found the biggest obstacle is awareness," continued Schultz. "We believe that if parents can read stories from other parents they are more likely to apply those lessons to better protect their own children."
To post a story or provide Internet Safety advice to other parents, please visit http://www.InternetSafetyTip.com.
About McGruff SafeGuard
McGruff SafeGuard provides parental control software for Windows PC, and a Free Child Safe Browser for the iPhone, iPad and iPod/Touch. McGruff SafeGuard is a licensee of the National Crime Prevention Council (NCPC). Our offices are located at 2941 West Cypress Creek Road, 2nd Floor, Fort Lauderdale, Florida 33309. To reach us please call (954) 607-7559, send email to info(at)gomcgruff(dot)com or visit us online at http://gomcgruff.com.
About NCPC and McGruff the Crime Dog®
The National Crime Prevention Council (NCPC) is a private, nonprofit organization whose primary mission is to be the nation's leader in helping people keep themselves, their families, and their communities safe from crime. NCPC manages public service advertising under the National Citizens' Crime Prevention Campaign — symbolized by McGruff the Crime Dog® and his "Take A Bite Out Of Crime®" slogan — and acts as secretariat for the Crime Prevention Coalition of America, more than 400 national, federal, state, and local organizations representing thousands of constituents who are committed to preventing crime. NCPC is funded through a variety of government agencies, corporate and private foundations, and donations from private individuals.