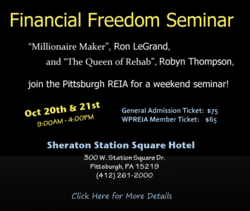 "Golf and real estate have some things in common, you've got to have balls, and be willing to take a swing" Josh Caldwell
Conneaut, PA (PRWEB) September 10, 2012
Most people know the Western PA Real Estate Investors Association as the Pittsburgh Metro Area's fastest growing and most dynamic real estate investing club. What is not widely known about the club and its members is the many non-investment related activities that the club sponsors. While it is the goal of the club members to make money, and the goal of the club to educate regular people on the techniques required to make money in this economy, the club also exists as a gateway to enrich the surrounding communities.
Much of what the public understands about real estate investing is true. Real estate investors do repair abandoned and dilapidated property. Real estate investors do lead the charge in neighborhood renovation. Real estate investors are the people largely responsible for providing housing to low income and underserved populations. It is the investor who provides the group homes for mentally challenged adults, so that they can live in the community with as much independence as possible. All of that is true. What is also true is that many real estate investors are regular people who have been blessed with an abundance of wealth. These regular people look for opportunities to help others, sometimes in non-traditional ways.
Earlier this year the Pittsburgh based WPREIA, sent out a nationwide message looking for charities to partner with. The response to that message was overwhelming. The club looks forward to announcing the future charitable events as soon as the details are finalized. While those events are being planned the club members have sought out other events like the Copper Invitational to help local groups produce their own events. It is no longer enough to narrowly focus the outside actions of the club on charitable events. WPREIA is actively looking for other clubs and events to take part in. The membership of the club recognizes that the economy has hurt a lot of groups. WPREIA intends to help keep Western PA traditions like the Cooper Invitational Golf Tournament alive.
This year looks to be an exceptionally competitive field in the Cooper Invitational. The senior's only tournament will be held in Conneaut Pennsylvania this year. Last year's tournament champion looks to defend his title against a very hungry field. 2011 Champion, James Cooper of Beaver PA, attributes his success to a studying Scott Myers' Breakthrough Putting Secrets. According to Mr. Cooper, "winning is all about putting". As long as the rain holds off, Mr. Cooper will get his chance to prove that he can still out put all challengers.