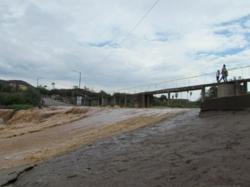 Sonoyta, Mexico (PRWEB) September 09, 2012
Torrential rains and flooding have forced the closure of the Sonoyta - Peñasco road to Rocky Point accessed by way of the Lukeville border. Recently, traffic through the town of Sonoyta had been diverted through a side road while construction on a bridge was getting underway. Recent heavy rainfall has delayed construction of the bridge and has flooded the alternate route, forcing the road through Sonoyta, Mexico which leads to Rocky Point to be closed completely.
Travelers to Puerto Peñasco have been advised to utilize the coastal highway via Yuma, Arizona in order to gain access to Rocky Point until further notice. The paved, Federal Highway 3 was completed in 2010 and travels through San Luis Rio Colorado. The closure will add considerable drive time, as the distance to Rocky Point from Yuma is approximately 268 miles. The distance from the Lukeville border, through Sonoyta to Rocky Point is approximately 68 miles.
Construction on the essential bridge, which connects to Federal Highway 8, began several months ago. Since its inception, the project has been fraught with delays including flooding and accidental damage to the bridge while under construction.
Due to the recent flooding and heavy rainfall in the area of Sonoyta, Juan Carlos Fuentes, Chief of Security and the Environment of TRADECO S.A. de C.V. declared the road closed at 11 am on Friday morning. In a statement released by the office of The Communications Department of the City of Sonoyta, the decision was made to close the road in the interest of public safety. "There were 26 cubic meters of rain per minute, which continued to increase throughout the day. Therefore, the road was closed to vehicles (and) the passage along Calle Benito Júarez "El Vado" (the detour/wash) will be closed until further notice."
As a result of the closure and the potential for further flooding, security in Sonoyta has been elevated to ensure the safety of the community. "There are municipal and federal police collaborating efforts concerning traffic indications, preventive information, and safety. Similarly, the Fire Department, Red Cross, Civil Protection and Rescue units have been set up in the Northern and Southern parts of the municipality as a measure to avoid and prevent any aggravating situation that may arise."
This information will be updated as it becomes available. Refer to map for alternate route.