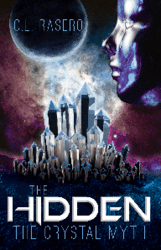 ...leaving the readers on the edge of their seats as they marvel at the manner in which the forces at work guide the characters to their ultimate destiny.
BRADENTON, Fla. –
(PRWEB) September 11, 2012 -- Christa is a single mother trying to raise her son, Matt, a brilliant boy diagnosed with Asperger's at a young age. In this story, Christa, a creative woman, has been working diligently on a novel that revolves around the origin of humans as it connects to the continued sightings of UFOs and alien abduction of humans. The book seems to flow out of Christa with little effort, and she enjoys the process. One evening, Christa and her dear friend, Molly, go looking for crystals, and they come upon a type of crystal that neither woman has ever encountered; they are beautiful and intriguing, and Molly decides to take them back to her lab to investigate them further.
That night, Christa has unusual dreams, dreams that are reminiscent of recorded alien abduction experiences. This makes Molly's inspection of the crystals more urgent, but her surreptitious use of the laboratory equipment does not go unnoticed. Cal Renner, Molly's co-worker and Christa's disgruntled ex-boyfriend takes it upon himself to learn what Molly has discovered. Renner's interference creates problems beyond Christa and Molly's wildest imaginations as he brings a governmental agency into the lab to continue experimenting on the extremely unusual crystals. This agency makes life incredibly difficult for Molly, and Christa fears for her friend even as she embraces the messages the crystals continue to deliver to her. Can Christa place her trust in the positive revelations of the crystals? Can Molly evade the governmental agencies and their intrusion into her life? Are these crystals all they seem to be?
"The Hidden, The Crystal Myth" is a fascinating tale, filled with positive spiritual disclosures as well as the aspects of a pulse-pounding thriller. Author C.L. Rasero effortlessly blends the mystic with the more traditional mystery, leaving the readers on the edge of their seats as they marvel at the manner in which the forces at work guide the characters to their ultimate destiny.
----------
For additional information, please visit http://www.angelmoonwing.com.
The Hidden, The Crystal Myth
C.L. Rasero
Dog Ear Publishing
ISBN: 978-1-4575-0871-4 216 pages $12.95 US
Available at Ingram, Amazon.com, Barnes & Noble and fine bookstores everywhere.
About Dog Ear Publishing, LLC
Dog Ear Publishing offers completely customized self-publishing services for independent authors. We provide cost-effective, fast, and highly profitable services to publish and distribute independently published books. Our book publishing and distribution services reach worldwide. Dog Ear authors retain all rights and complete creative control throughout the entire self-publishing process. Self-publishing services are available globally at http://www.dogearpublishing.net
and from our offices in Indianapolis.
Dog Ear Publishing – self-publishing that actually makes sense.