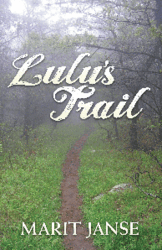 Although the trail produces hardship, (the author) finds inspiration in others who are making the journey and small acts of kindness from others.
FENTON, Mich. –
(PRWEB) September 12, 2012 -- When her 24-year marriage began to crumble, Marit Janse decided to take drastic action and do something that would change her life: Hike the entire Appalachian Trail. She hoped her husband would beg her not to go on this dangerous trip, but he did not. This new book details her six-month journey on the 2,174 miles of the trail, which snakes from Georgia to Maine through 14 states. Marit soon finds out that walking the trail is more than a simple walk in the woods and documents her thoughts through words and a series of photos.
As "Lulu's Trail" begins, Marit outfits herself for the hike, more concerned with the color of her sleeping bag and cute accessories than thinking about practical matters. Her son and a close family friend plan to hike the first five days with her and return home. Right away the trail is harder than anyone thought, and her son lasts only one night. Instead of groups of talking, laughing hikers, Marit finds herself with one or two people along the way. Although the trail produces hardship, she finds inspiration in others who are making the journey and small acts of kindness from others: the mention of a bathroom just ahead, a warm hostel or simple advice that aids survival.
"Lulu," as Marit becomes known on the trail, survives many obstacles during her hike, including an inner ear infection that affects her balance, mice that nibble food through her pockets, rain and snow, bad water, bears and immovable boulders. The trail's negatives are offset by such things as "trail angels" – children with a church that helps hikers every weekend, offering water bottle refills, fruit or a candy bar to walkers of the Appalachian Trail. Lulu's experiences, including the final leg of her hike near Mount Katahdin, provide an unforgettable lesson in the power of determination.
Author Marit Janse, who lives in Michigan, was born and raised in Schiedam, The Netherlands. She was inspired to walk the trail after reading Bill Bryson's book "A Walk in the Woods." Janse has a son, Gary.
----------
For additional information, please visit http://www.LulusTrail.com.
Lulu's Trail
Marit Janse
Dog Ear Publishing
ISBN: 978-1-4575-1033-5 128 pages $12.95 US
Available at Ingram, Amazon.com, Barnes & Noble and fine bookstores everywhere.
About Dog Ear Publishing, LLC
Dog Ear Publishing offers completely customized self-publishing services for independent authors. We provide cost-effective, fast, and highly profitable services to publish and distribute independently published books. Our book publishing and distribution services reach worldwide. Dog Ear authors retain all rights and complete creative control throughout the entire self-publishing process. Self-publishing services are available globally at http://www.dogearpublishing.net
and from our offices in Indianapolis.
Dog Ear Publishing – self-publishing that actually makes sense.