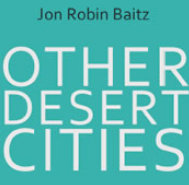 Santa Fe, New Mexico (PRWEB) September 08, 2012
Straight from its highly successful run at Lincoln Center, 'Other Desert Cities' won the Drama League Award for Distinguished Play, was named Outstanding New Off-Broadway Play by the Outer Critics Circle, and was a 2012 Pulitzer Prize finalist. Baitz ("The Substance of Fire," "A Fair Country") presents a finely crafted drama focusing on a young novelist returning to a family home in Palm Springs that announces a completed memoir written with a goal and desire to unlock the lives the author's family once had. As in all desert lands, a mirage can transfix and trick its inhabitants and as the heat gives way, reality comes into sharp and unrelenting focus. The inaugural production of the 2012-13 season the play is directed by Gil Lazier (FUSION's God of Carnage, August: Osage County, How the Other Half Loves and Parlour Song). 'Other Desert Cities' is a featured event on the SantaFe.com event calendar.
Featured actors in 'Other Desert Cities':
Paul Blott* (Lyman) is a not so recent transplant from Los Angeles having worked several seasons at Will Geer's Theatricum Botanicum playing a variety of Shakespearean roles. Paul also appeared in numerous Shakespeare in Santa Fe productions. Mr. Blott's more recent work includes a wide variety of roles with FUSION: "Big Daddy" in Cat on a Hot Tin Roof, "Willy Loman" in Death of a Salesman, "Steve" in August Osage County, "Father" in Eurydice, "Clown 1" in The 39 Steps, and "Mark Rothko" in Red. Paul's film/television work includes Lightning Jack, The Last Hit, Lazarus Man, The Last Stand at Saber River, Maniacts, The Rambler, In Plain Sight, and Longmire. When not acting, Paul & his wife Susie are usually found in the greenhouse or office of Aroma Fresca, a family owned herb business. Paul has been a proud member of the Actors' Equity Association since 1980.
Joanne Camp* (Polly) is thrilled to be returning to the FUSION stage. Ms. Camp's work on and off Broadway has been recognized with Drama Desk & Tony Award nominations, Clarence Derwent & Theatre World Awards. A 25-year member of The Pearl Theatre Company, Joanne performed in over 50 classical productions from Aeschylus to Hellman, garnering an Obie Award for Continued Excellence and a Joseph A Callaway Award for Classical Performance. Film/TV credits include: Private Parts, Law & Order, Damages, The Luckiest Man in the World, and Canterbury's Law. Since arriving in NM, Joanne has been seen in Who's Afraid of Virginia Woolf at Santa Fe University, August: Osage County, The Mandrake, and First Love at FUSION and in the independent feature film, Warrior Woman. Ms. Camp is a member of SAG-AFTRA. Joanne has been a proud member of the Actors' Equity Association since 1978.
Jacqueline Reid* (Brooke) is a founding member of FUSION. At FUSION: Time Stands Still, Once in a Lifetime, God of Carnage, The 39 Steps, August: Osage County, Overruled, A Lovely Sunday for Creve Coeur, How the Other Half Loves, The Homecoming, Parlour Song, Suddenly Last Summer, Private Lives, Hedda Gabler, The Glass Menagerie, A Streetcar Named Desire, The Taming of the Shrew, Closer, and Cat on a Hot Tin Roof. Regional: Romeo and Juliet, Agnes of God, Crimes of the Heart, Tribute. Film & Television: Heat Lightning (Best Actress: Bend, Oregon Film Festival), Doc West, Triggerman, In Plain Sight, Unsolved Mysteries, and True Confessions with Adam Arkin. Directing credits include the regional premiere of Doubt, Red, The Mandrake, Happy Days, Death of a Salesman, The Lieutenant of Inishmore, Buried Child, Who's Afraid of Virginia Woolf?, A Lie of the Mind, The Unexpected Man, The Long Christmas Ride Home,and the world premieres of Mad Hattr and You Can't Get a Decent Margarita at the North Pole. Ms. Reid is a graduate of the North Carolina School of the Arts. Jacqueline has been a proud member of the Actors' Equity Association since 1983.
Laurie Thomas* (Silda) is a Co-Founder and Artistic Associate of FUSION Theatre Company. Ms. Thomas is a director, actor, writer and member of Albuquerque Academy's Performing Arts Faculty. Ms. Thomas professional acting experience outside Albuquerque includes California Shakespeare Theatre, Book-It Repertory Theatre, On the Boards, A Contemporary Theatre, Berkeley Stage Company, The Empty Space, Bay Area Playwrights Festival, and Playwrights Horizons. Last season, Ms. Thomas was honored to represent FUSION at the Provincetown Tennessee Williams Festival in the premiere of Once in a Lifetime and to play the iconic role of Mrs. Claus in FUSION's premiere of Matt Hanf's You Can't Get a Decent Margarita at the North Pole. Additionally, Ms. Thomas directed FUSION's production of Donald Margulies' Time Stands Still. This summer, Ms. Thomas co-wrote and directed the premiere of Paloma and the Mayan Flute for FUSION's collaboration with the Albuquerque Museum of Art and History. Ms. Thomas is very excited to be directing FUSION's production of Humble Boy in the spring. Ms. Thomas has been a proud member of the Actors' Equity Association since 1990.
James Wagner* (Trip) was recently seen at the Magic Theatre in the world premiere of Theresa Rebeck's What We're up Against and New Jerusalem at LA Theatre Works. Other regional credits include Very Still and Hard to See at the Production Company, The Cost of the Erection at the Blank Theatre, Secret Order at San Jose Rep, Mauritius at The Magic Theatre, A Christmas Carol at the American Conservatory Theatre, Betrayed and The Busy World is Hushed at the Aurora Theatre, and Beauty and the Beast at the B-Street Theatre. Some favorite shows include Candida, David Copperfield, A Midsummer Night's Dream, The Reluctant Doctor, Telephus, The Rainmaker, The Best Little Whorehouse in Texas, The Glass Menagerie, The Flying Doctor, Mother Courage, and How to Succeed in Business. Mr. Wagner's list of thirty short and feature film credits include lead roles in The Invisible Forest and To Dreams of Falling Upward by Antero Alli. Wagner has an M.F.A. from The American Conservatory Theatre and can be found online at http://www.jameslouiswagner.com. James has been a proud member of the Actors' Equity Association since 2007.
Ticket Info:
Purchase Tickets - Online
Admission: $20-$40
About SantaFe.com:
SantaFe.com provides locals and visitors to Santa Fe alike the most current interactive platform for events, music, arts, business, dining and lifestyle. SantaFe.com is a division of Hutton Broadcasting, located at 2502 C. Camino Entrada, Santa Fe, NM 87507
Contact Information:
Scott Hutton
SantaFe.com / Hutton Broadcasting
http://www.santafe.com
(505) 471-1067 (Media inquiries only, please)