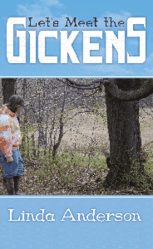 (The book) follows the growing relationship between the humans and the Gickens, who need a place for their new colony.
ASHVILLE, N.Y. (PRWEB) September 13, 2012
Enter the fascinating world of the Gickens, who grew to only 12 inches tall and live in the woods. In this enchanting new story, Mac, a Gicken, first encounters a man named Casey while trying to find wild berries to eat. Casey was about to cut down an oak tree for firewood. Unfortunately, that's where some of Mac's friends live. At first, communication is a problem because nobody can understand each other. Luckily, Caseys' wife, Mary Jo, figures out that the Gickens speak English backwards, and everyone learns how to get along.
"Let's Meet the Gickens" follows the growing relationship between the humans and the Gickens, who need a place for their new colony. Casey and Mary Jo come to their rescue, offering some of their own land that already features food sources the Gickens need: berry bushes, wild flowers and herbs. The humans enjoy showing the Gickens new wonders like flashlights, dryers and their pet dogs. Casey and Mary Jo's generosity allows the Gickens to reunite with other families. The Gickens reward that generosity with their friendliness and dandelion tea, which helps Casey's health. A celebratory family picnic brings a very special surprise that will change lives forever.
Author Linda Anderson, who has written and told stories for many years, credits her love of the craft to Peg Marshall, a former teacher in a one-room schoolhouse who made learning fun for Linda. Anderson, a former preschool teacher and daycare director, lives on a small farm with her husband and a spoiled Jack Russell terrier. She grew up with two older brothers in Lander, Pa., and raised four children of her own.
----------
For additional information, please visit http://www.meetthegickens.com.
Let's Meet the Gickens
Linda Anderson
Dog Ear Publishing
ISBN: 978-1-4575-1317-6 104 pages $8.95 US
Available at Ingram, Amazon.com, Barnes & Noble and fine bookstores everywhere.
About Dog Ear Publishing, LLC
Dog Ear Publishing offers completely customized self-publishing services for independent authors. We provide cost-effective, fast, and highly profitable services to publish and distribute independently published books. Our book publishing and distribution services reach worldwide. Dog Ear authors retain all rights and complete creative control throughout the entire self-publishing process. Self-publishing services are available globally at http://www.dogearpublishing.net
and from our offices in Indianapolis.
Dog Ear Publishing – self-publishing that actually makes sense.