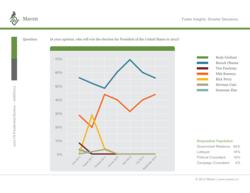 Romney is better funded and organized than John McCain in 2008, but the question remains whether he can 'knock out the champ.'
San Francisco, CA (PRWEB) September 11, 2012
President Barack Obama's reelection hopes continue to shrink, according to twenty-five top political insiders surveyed by Maven, the Global Knowledge Marketplace. Unlike "opinion polls" which measure political preferences among voters, Maven sought the opinions of influential political consultants, lobbyists, and government relations professionals about the outcome of the current campaign. Although the majority still believe Obama will prevail in November, continued economic woes have resulted in further tightening of the race.
Maven's previous tracking survey conducted in July of the same group of experts showed Barack Obama beating Romney by a margin of 60% to 40% on the question of who is likely to win in November, a decline from a lead of 40 percentage points in the survey's May edition. That lead has tightened to 12% percent in the latest survey, reflecting a boost to Romney from his selection of Paul Ryan as a running mate as well as the President's declining popularity. 56 percent of respondents believe that Barack Obama will win reelection in November 2012, his lowest level of support since October 2010. Meanwhile, Mitt Romney's climb continues, with 44% of respondents selecting him as the more likely winner.
"This is shaping up to be a very close race. Although Mitt Romney's support continues to grow among our expert pool, he still hasn't fully exploited the President's weakness," commented Maven Co-Founder and CEO Wyatt Nordstrom. "Romney is better funded and organized than John McCain in 2008, but the question remains whether he can 'knock out the champ.'"
This is the seventh in a series of surveys conducted by Maven leading up to the November 2012 election. Results are tracked to illustrate how sentiment among the respondent population changes as events unfold. Additional commentary and full results tracking are available at http://www.maven.co/blog/2012/09/10/september-presidential-survey/.
Members of the news media interested in speaking with the Survey respondents should contact Maven at info(at)maven(dot)co.
About Maven
Maven is a global network of industry professionals, thought leaders, and experts who connect, share knowledge, and help each other address business challenges of all sizes. Maven's proprietary "microconsulting" platform provides instant access to highly qualified experts from every background via paid knowledge sharing interactions, including:

Telephone Consultations
Electronic Surveys
Extended Consulting Projects
Intelligence Markets
Business Education Workshops & Seminars
Strategic Advisory
Knowledge Communities, powered by Maven
Maven – Faster Insights. Smarter Decisions.