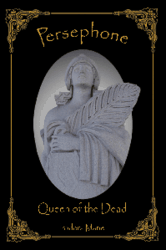 (The author) grew up studying Greek myths, especially the gods, goddesses and heroes that starred in them.
CHICAGO (PRWEB) September 13, 2012
"My birth name is Kore, but modern readers may only know me by the name Persephone; the name my husband gave to me on our wedding day many long centuries ago," writes the author of this new book, a modern twist to the ancient myth of Persephone and her life in the Underworld. In this version of the myth, the young maiden falls deeply in love with Hades after seeing him first emerge from the Underworld with his magnificent black, winged stallions and goes with him willingly – not kidnapped as the original myth relays. Her mother Demeter's grief and feelings of betrayal, however, remain, so the queen of the dead must live half the year above ground to ensure the world's fertility.
Persephone delves deeper into the story, explaining the role Persephone assumes as queen of the dead and telling the stories of mortals who risk their lives in the Underworld. Readers hear about Orpheus, who begs for his wife's return to life; Theseus and Pirithous, who try to kidnap Persephone and are instead turned into statues; and Hercules, who frees Theseus as one of his labors. Psyche, Eros, Adonis and Dionysus all play a role in the book as well. The last section of the book describes how early Christians demoted the old gods into demons, dooming them to obscurity as "only the strongest of the gods survived during this period," the author writes, adding that the new century has brought a revival of old religions. Readers gain a new perspective on the world of Persephone, Demeter and Hades that will be unforgettable.
Author Isadora Marie works in a history museum whose holdings include gods and goddesses of several cultures, including Ancient Greece. Isadora Marie grew up studying Greek myths, especially the gods, goddesses and heroes that starred in them. When she became a Wiccan, those same gods and goddesses became important in both rituals and her life. Her decades of studying Greek myths inspired her to tell an updated version of Persephone's story. She lives in the Chicago area.
----------
For additional information, please visit http://www.isadoramarie.com.
Persephone: Queen of the Dead
Isadora Marie
Dog Ear Publishing
ISBN: 978-1-4575-0725-0 336 pages $16.95 US
Available at Ingram, Amazon.com, Barnes & Noble and fine bookstores everywhere.
About Dog Ear Publishing, LLC
Dog Ear Publishing offers completely customized self-publishing services for independent authors. We provide cost-effective, fast, and highly profitable services to publish and distribute independently published books. Our book publishing and distribution services reach worldwide. Dog Ear authors retain all rights and complete creative control throughout the entire self-publishing process. Self-publishing services are available globally at http://www.dogearpublishing.net
and from our offices in Indianapolis.
Dog Ear Publishing – self-publishing that actually makes sense.