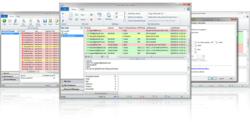 Thanks to the ability to process large email lists and handle bounced emails, Advanced Email Verifier guarantees almost 100% accuracy in detecting bad email addresses
(PRWEB) September 08, 2012
The newest release of Advanced Email Verifier (which can be downloaded at http://www.glocksoft.com/email-verifier/) brings with it a long list of new features that improve design and performance. G-Lock Software has taken what was already an industry leading email verifying software and made it better. As CEO Alex Markov says, "we are excited to launch the new version of our Advanced Email Verifier. Thanks to the ability to process large email lists and handle bounced emails, it guarantees almost 100% accuracy in detecting bad email addresses."
The Only Email List Cleaner on the Market with the Capability to Process Bounced Emails
The difference between success and failure with an email campaign is having software that can maintain a clean mailing list; ISP mail servers are known to be strict and block any email domain that consistently sends messages to unavailable email addresses. For this reason G-Lock Software created a built-in bounce handler for the newest version of Advanced Email Verifier that is capable of processing large amounts of bounced emails and extracting the information for easy access. Verifying and removing false addresses from databases used to be a time consuming task that required a variety of expensive software to execute. V8 of Advanced Email Verifier removes the hassle from the process and streamlines it all within one useful package. A full tour of the product is located here: http://www.glocksoft.com/email-verifier/aev-tour/why-use-advanced-email-verifier/
Video Tutorials Available Online For an Easy Learning Experience
G-Lock Software does not lack in support for their products and that hasn't changed with the release of the newest version of Advanced Email Verifier. On their website they offer in depth video tutorials that cover every aspect of the product, from getting started to a special video detailing how to handle bounced emails with the software's new feature. Video tutorials - found at http://www.glocksoft.com/email-verifier/aev-video-tutorials/ - are the best tool to use when dealing with something unfamiliar and the step by step guides offered online allow anybody to learn how to use Advanced Email Verifier in very little time.
A Bevy of Additional Features Makes Advanced Email Verifier 8 the Most Powerful Version to Date
There is a long list of additional features included in version 8 of Advanced Email Verifier that makes the software the best on the market. The product allows you to decrease internet traffic to help save bandwidth, connect to a massive database of emails and verify them directly without having to export, easily import email lists from other sources and even offers automatic deletion of auto-reply emails.
ABOUT G-LOCK SOFTWARE
G-Lock Software develops software for different programming environments. Currently, the company's emphasis is on tools and applications in the field of SEO and email marketing. Among its major products are G-Lock EasyMail bulk email sender and newsletter software, G-Lock Analytics real time email tracking system, Advanced Email Verifier email list cleaner and verification software, G-Lock Email Processor advanced email processing and parsing software, Fast Directory Submitter directory submission tool for creating permanent one-way backlinks, and Fast Blog Finder blog commenting software.