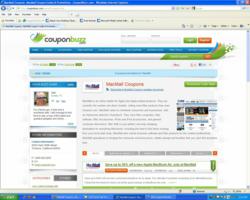 We are expecting lots of excited coupon shoppers hitting our site...
Houston, TX (PRWEB) September 09, 2012
September is turning out to be a great month to get a brand new Apple computer. Today CouponBuzz.com featured a link to the MacMall.com Apple computer blowout sale on their web page dedicated to MacMall.com coupon codes and special offers. This huge sale offers consumers discounts from 10% to 23% off standard retail pricing on almost every make and model of Apple laptop and desktop personal computers.
"This is a really huge sale on Apple computers," enthused Justin Bowen, one of the senior directors at CouponBuzz.com. "We are talking about saving up to $369 dollars off of retail price for a top of the line Apple computer. Individuals who have spent any time trying to deal-shop for Apple brand laptops and desktops should immediately recognize what a rare event this MacMall.com Apple blowout sale is. We are expecting lots of excited coupon shoppers hitting our site to get more info on how to access this sale and snag themselves a brand new Apple computer."
The MacMall.com coupons for the Apple blowout sale are first come, first served. Supplies are limited and these popular computers are going fast. The 13.3 inch, 15.4 inch, and 17 inch MacBook Pro laptop computers are all included in the sale, and consumers can select their processor speed preference. Most sizes of the MacBook Pro can be customized with one of two Intel Core i7 processors, from speeds of 2.2GHz to 2.5GHz.
Also part of the sale accessed by today's featured MacMall.com coupon are the 11.6 inch and 13.3 inch models of the MacBook Air laptop computer. The MacBook Air is a smaller, lighter companion to the MacBook Pro, with slightly less capability to perform intense computing tasks. However, it is a bit more easily transported, and retails at a price point usually a few hundred dollars less than the MacBook Pro.
A couple Mac Desktop computer towers are also included in the sale, featuring 1 or 2 Quad-Core Intel Xeon Nehalem Processors, and a massive 1TB hard drive. These are cutting edge personal desktop computers that have unbelievable speed and power to accomplish any task a user could design for them. More information about the MacMall.com coupon for the Apple computer blowout sale can be found in CouponBuzz.com's special MacMall.com section, located here http://couponbuzz.com/macmall-coupons.html