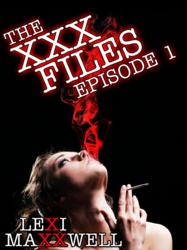 That's why you'll never find artificial feeling dialogue or toned down language in my stories. I prefer writing that has authentic language that real people use
Las Vegas, Nevada (PRWEB) September 10, 2012
Lexi Maxxwell, the reader pleasing erotica writer who gets naughty with her pen each week, has bundled 50 of her previously published stories into a single collection and released the title with the name "50 Shades of Lexi Maxxwell."
"50 Shades of Lexi Maxxwell" is aimed at those erotica readers who are not yet familiar with Ms. Maxxwell's work, might be looking for something after finishing the "50 Shades of Grey," and like their spicy stories a little extra spicy.
"I don't see the point in writing with apology," Maxxwell said. "That's why you'll never find artificial feeling dialogue or toned down language in my stories. I prefer writing that has authentic language that real people use, and I know that language appeals to a certain type of reader since it's the type of writing which appeals most to me."
Lexi Maxxwell is a pseudonym for a successful copywriter who started experimenting with erotic fiction when Amazon's Kindle Direct Publishing platform made it relatively easy for writers like her – able to produce a large volume of quality work under a short deadline – to bypass publishers and go straight to market.
As a skilled copywriter, Maxxwell is used to keeping readers glued to the page, and believed in her idea, and ability to execute, enough to fund her experiment with countless hours of her own time writing, as well as paying for professionally produced book covers to compliment her crisp writing and thorough edits.
Lexi fans love the result. So far this year, readers have left over 150 reviews, with an impressive 4.9 average. Maxxwell says her books are "Smut for Smart People," because of her strong vocabulary and unapologetic tone which drives the action and narrative in her titles.
"I could have started writing in any genre I wanted," Maxxwell said. "And I started publishing my erotica long before the '50 Shades' phenomenon. I chose erotica because it's what I love to read most when I want to forget everything else. I'm thankful to E.L. James for her excellent work with "50 Shades," and for breaking through as many boundaries as she has. I feel like my stories can now be read with less judgment than they would have been before."
Lexi Maxxwell books are published every Friday, with her titles ranging from short erotica stories, to serialized erotica such as XXX Files, to short collections with multiple stories, and bundles such as "50 Shades."
Currently, the first episode of Lexi Maxxwell's serialized story, XXX Files is FREE.
"50 Shades of Lexi Maxxwell" gathers 50 previously published stories, across multiple titles into a single volume.
"If you loved '50 Shades' but are looking for tighter writing or more titliating action, this collection is one of the bests deals in erotica," Maxxwell said. "50 5-star stories for .20 cents each – that's a heap of pleasure to lay in bed with, for hardly any price."
Lexi Maxxwell is currently finishing up her first full book for a fall release. She says fans can expect the book to read slightly softer from the raw edge they're used to, but she promises her work will lose none of its playful tone or sexy rhythm.
"I'll be ready to make an announcement about the book soon," Maxxwell said. "I don't wont to jinx anything before it's finished. We're almost there, though, and what I have so far I really, really like. But I've never tried a novel before, so I'm as curious to see what happens as my readers!"
Fans can find Lexi on her Amazon Page and her erotica author's website where readers can sign up for her free erotica ebook alerts.