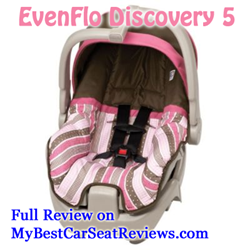 The Discovery 5 exceeds all applicable United States Federal safety standards as well as Evenflo's own side impact test standards...
Stuart, FL (PRWEB) September 09, 2012
While parents are searching for honest feedback on the EvenFlo Discovery 5, they can visit the newly published review on MyBestCarSeatReviews.com. Based on 100% user feedback, this infant car seat review includes both the positive and the negative aspects.
The Discovery 5 exceeds all applicable United States Federal safety standards as well as Evenflo's own side impact test standards with its EPS energy absorbing foam liner that disperses impact forces. This infant seat also features a five point harness and a two piece-chest clip that helps keep the baby snug and secure.
Another thing that the review at MyBestCarSeatReviews.com points out about the Discovery 5 infant car seat is the comfort features, which are for both babies and their parents. The easy-to-clean material that covers the interior part of the seat is soft and helps keep the rider cool in the summer while an adjustable canopy helps keep the sun's light and heat from disturbing the seat's precious cargo.
As mentioned, the Discovery 5 also has a comfort feature that was designed with parents in mind. This is the uniquely shaped handle that EvenFlo calls the CarryRight Z handle, because it's shape resembles the letter Z. This ergonomically designed handle makes carrying the seat much easier than many other models on the market.
Some parents complained that there was no headrest in this infant car seat, which many feel is an important part of providing comfort for their infants. Despite this, and a couple of other small problems with the seat, MyBestCarSeatReviews.com gave the Discovery 5 an positive opinion overall and believe the seat is a safe choice, affordable, and made by a manufacturer that is well-known in the baby item industry.
Evenflo is a company that has been around for over ninety years and is a leader in the manufacturing of infant and toddler car seats and other baby products. The company has an overall good reputation for having quality products at great prices.
My Best Car Seat Reviews is a website that provides unbiased reviews of infant car seats based on real consumer feedback. The results are honest reviews that don't hide the drawbacks of a seat.
MyBestCarSeatReviews.com also makes it easy for shoppers to compare seats and find the best price on each seat all on one, easy-to-navigate website. While the site currently only offers infant car seat reviews, it will soon be expanding to offer toddler car seats, 3-in-1 seats, booster seats and more.
Read the complete EvenFlo Discovery 5 review and many others at MyBestCarSeatReviews.com.
More Car Seat News:
Infant Car Seat Reviews by MyBestCarSeatReviews.com Makes Buying Car Seats Easy