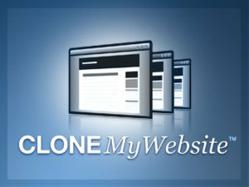 It is time consuming to fine tune a setting for SEO or direct response marketing when you are using a generic WordPress theme.— clonemywebsite.com
Las Vegas, NV (PRWEB) September 11, 2012
WordPress continues to become the most trusted content management system for business websites but very few people realize the importance of having the right theme design for your business. Using a custom WordPress theme generator gives any business owner that ability of making their website rely on the best business WordPress themes. Its ability to generate more than 1000 themes and have some more being generated every day makes it an important tool for your website. You can play around with more than 50 fonts, have unlimited places for widgets, make fine frameworks and save your themes to be used later. Wordpress has therefore managed to move your website's interphase to a completely new level. What more would your internet business require apart from consistent updates?
"It is time consuming to fine tune a setting for SEO or direct response marketing when you are using a generic WordPress theme."— clonemywebsite.com
A differentiation fact for customers when they interact with businesses online is the degree of functionality that the websites provide, based on the products that they offer. On the other hand, business owners also need to merge their organizational cultures and identity on their websites, because this serves as the first outlet of customer interaction. Therefore, getting the best business WordPress theme is an essential point of customer care, whether the customer is a buys or only spreads word about the business.
There are many WordPress themes available for free, or with a little customization being offered for sale. However, rarely does one get the most fitting theme for their business, because there are always unique attributes with every website design. It is impossible for companies that sell themes to many people, to have the exact needs of every kind of business. Nevertheless, they do offer a range of spectacular themes that have the advantages of security, scalability and functionality.
On their part, WordPress theme generators are solving the headache that many website owners and designers had, when it came to choosing the best themes. The theme generator does not require the technical ability of dealing with design coding languages and anyone conversant enough to use computer software is able to create attractive-looking themes with the generator. It costs money to maintain WordPress themes that developed by external designers because one has to rely on them for every change desired on their layout or functionality. The money spend on paying for maintenance or design services is saved if you choose a WordPress theme generator because, you can create as many search engine optimized themes as you require. For business that have a tight budget, a free theme generator may suffice, but it will have limited functionality compared to commercial theme generators, whose developers will keep addition features to make them even easier to use and increase their capabilities.
You can now have a professional WordPress site in minutes, complete with SEO capabilities and ready for deployment. The sites created by the theme generator will enable your business to start making you money since they enable people to have a new idea or a product launch within an hour when traditionally it would take days.
For people looking for the best business WordPress themes, the WordPress theme generator has no match, as it is the only tool that will give them the theme without the lock-ins that force them to purchase an upgrade or a lifetime maintenance subscription.
About clonemywebsite.com
CloneMyWebsite.com provides the ultimate direct response-publishing platform whose development has taken care of all the challenges, needed from an Internet Publishing System, of getting a WordPress website online and ready for business. Visit us at http://www.clonemywebsite.com/