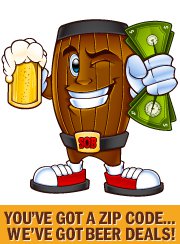 It just felt right. Our fans really feel a part of something special when they receive free swag from us.
Houston, TX (PRWEB) September 10, 2012
SaveOnBrew.com has been listing local beer prices, sales and specials for every zip code in America since 2010. It's an ambitious project, says founder Mark Davidson, but it's all in an effort to end the tyranny of inflated beer prices in this great land. Consumers are no longer at the mercy of their local gas station or large supermarket chain. They can now discover small retailers offering better prices on their favorite brews.
To generate more awareness about the site, the marketing team at SaveOnBrew is offering free swag to new Facebook fans who email their mailing addresses to mark(at)saveonbrew(dot)com. This month, new fans will receive a free SaveOnBrew.com bottle opener keychain!
The response to the free sleek black bottle openers has been tremendously popular. Facebook.com/SaveOnBrew is already a flurry of positive comments from fans saying, "I love free bottle openers!" and "I love beer swag – especially free beer swag!" People were coming to the SaveOnBrew booth in droves at the BrewHaHa Festival in Galveston, Texas over Labor Day weekend. "I grabbed a whole handful for my friends," admits one enthusiastic fan.
SaveOnBrew's Jennifer Davidson explains, "It just felt right. Our fans really feel a part of something special when they receive free swag from us. We're just a small, fledgling company still trying to churn a real profit, so every bit of support helps at this point."
She adds that the group is giving out even more cool beer swag when fans send in pictures of themselves with their new SaveOnBrew items. "If you want to get our attention and get more free goodies, just make us laugh," Jennifer says. "So far, we've gotten some great homemade SaveOnBrew signs with people imbibing their favorite brews. That makes what we do all worthwhile!"
The free beer bottle openers and cool beer swag offer is only good while supplies last. SaveOnBrew will not share any personal information with any affiliates or other sources. Beer retailers are also invited to contact SaveOnBrew with regard to advertising and cross-promotional opportunities. For more information on finding the lowest beer prices on the web, visit http://www.SaveOnBrew.com.
About SaveOnBrew.Com: Founded in 2010 to help thirsty beer drinkers across the United States find the lowest advertised prices for one of the world's most popular beverages.