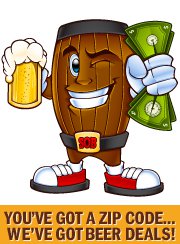 If you've got a zip code, we have beer sales for you!
Houston, TX (PRWEB) September 11, 2012
"SaveOnBrew first got their start in 2010," explains Mark Davidson, one of the founders. "Rather than pay full price for beer, we would call around to stores, collect circulars and browse online ads to find the lowest prices." Then, their friends would call them to learn what they'd found out. Sensing a void in the market, the team set out to create the internet's first – and only – nationwide beer price database.
"If you've got a zip code, we have beer sales for you," explains SaveOnBrew's Mark Davidson. "It's a really easy site to use. People can narrow their search down by brand, store, beer type, or container. We also have a mobile app that provides shoppers with maps to the nearest beer on sale."
SaveOnBrew is only as good as their information, so they have spent years cultivating relationships with local retailers across the land. It is 100% free to list beer sales in the site's database. "All we ask is that you send us a link to your online circular or email us updated lists," Davidson explains. It only costs a moment of the retailer's time to receive free access to SaveOnBrew's ever-growing audience.
The SaveOnBrew site gets over 165,000 page views per month and their Facebook fans exceed 25,000, which represents a tremendous opportunity for local business owners to get on board. Mark Lenzi of Franklin Liquors in Massachusetts says that their small, family-owned business finally got out the word that they have better prices than the big box stores nearby – all thanks to SaveOnBrew.
Charter advertising with SaveOnBrew is also a boon for nationwide online advertisers. "I've tried all sorts of online advertising over the years," says Josh Horowitz, owner of BeerBouquet.com. "But SaveOnBrew.com consistently brings me the best and most qualified traffic. My conversion rate from SaveOnBrew are literally double that of any other source!"
"We're looking for anyone who sells beer or beer-related merchandise in any capacity," says Davidson. "From small craft breweries to large-scale nationwide chains, from beer t-shirts to homebrew kits, we can offer premium advertising space at affordable rates."
Interested advertisers can contact SaveOnBrew via their web site.