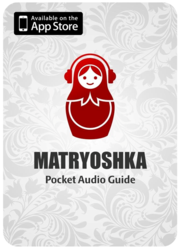 Going to visit Moscow & see all major sights? Save up to 100$ or 80€ using Matryoshka Audio Guides!

Moscow, Russia (PRWEB) September 26, 2012
Matryoshka Audio Guides is proud to be the first in the audio guide industry to offer affordable, easy-to-use audio guides of Moscow, Russia. Tourists can now enjoy all the city has to offer by following along on guided tours at their own pace.
The audio guides are available in two versions. Tourists can download an audio guide as a MP3 or purchase the iPhone App on iTunes. The MP3 version comes with a printable brochure with maps of walking tours and other useful information. The iPhone App has built in GPS navigation and a built-in map; therefore there is no need to print a map.
A great advantage of using an audio guide as opposed to a private tour is the cost savings. According to Max Kozlov, CEO of Matryoshka Audio Guides, a 4-5 hour excursion with a private guide in Moscow costs a minimum of $200 USD. Private tours may be a good option when traveling with large parties, however, those who travel alone or with a companion could benefit greatly from the savings. A 2.5 hour Matryoshka audio guide can be purchased for only $5 to $10.
What sets Matryoshka guides apart from the competition is the carefully structured routes. Alexander Usoltsev, one of Moscow's best guides, has carefully created routes and collected the most interesting historical and cultural facts about the main tourist attractions. Ian Mitchell, Scottish journalist who lives in Moscow, narrates the story. Tourists can visit the website at http://www.m-guides.com/in-the-heart-of-moscow.html#s1 to hear a sample tour from the Matryoshka guides.
Currently, Matryoshka Audio Guides contains 6 guides around Moscow: In the heart of Moscow, Behind the Moskva river, The underground world of Moscow (Metro), The golden mile of Moscow, The Soviet paradise on Earth and The Arbat. These must-see routes will guide tourists through major attractions, picturesque views and peaceful city districts.
Matryoshka Audio Guides website also offers unique, hard-to-find souvenirs that differ from the usual banal vodka, caviar, shapkas and mugs that are usually brought from Moscow.
For more information or to discover Moscow with Matryoshka Audio Guides please visit http://www.m-guides.com/ or like them on Facebook
Contact:
Max Kozlov
CEO
Phone: +7 (905) 713-58-89
Email: mkozlov(at)m-guides(dot)com