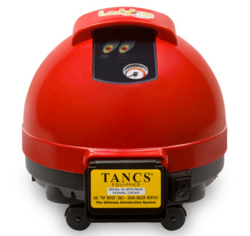 As the battle between the chemical industry and public health organizations over chemical policy reform heats up, so is the demand for green cleaners.
Lake Forest, Illinois (PRWEB) September 10, 2012
Challenges faced today by U.S. families, where credible scientific studies have linked traditional chemical household cleaning products to a host of health effects, have escalated the demand for healthy 'green' cleaning alternatives. Today, 1-800-GO-VAPOR.com, a leading marketer of Ladybug steam cleaners nationwide, extended its telephone hours to help educate consumers on the benefits of vapor steam, and is offering free shipping and a free accessory kit as an added incentive for shoppers to change the way they and their loved ones clean.
"As the battle between the chemical industry and public health organizations over chemical policy reform heats up, so is the demand for green cleaners," says V. K. Dunlop, vice president, 1-800-GO-VAPOR.com. "Currently in the U.S. there are over 82,000 chemicals used in everyday products, and only 200 of these have been tested for safety. Meanwhile breast cancer, autism, asthma, reproductive disorders and other health problems linked to chemicals are on the rise."
Shoppers who purchase a water-only Ladybug steam cleaner will get a free accessory set valued at $30. And to help shoppers match the right steamer for the right person, 1-800-GO-VAPOR.com has extended their telephone hours. Shoppers can reach a live sales representative 7 days a week from 7:00 a.m. to 11:00 p.m. CST.
Shoppers can still order 24 hours a day, 7 days a week via the Web. Hours for other customer support issues remain from 9:00 a.m. to 5:30 p.m. Monday thru Friday.
Ladybug vapor steam cleaners are the most innovative, intricately designed and technologically advanced non-chemical based cleaning systems on the market. The Ladybug 2200S steam cleaner and the popular Ladybug XL 2300 steam cleaner, when equipped with Ladybug's optional proprietary patented TANCS® (Thermo Accelerated Nano Crystal Sanitation) technology, qualify as disinfection devices for the U.S. Environmental Protection Agency.
Used in homes and apartments, hospitals, schools, nursing homes, restaurants, supermarkets, casinos, auto detailing shops, dental offices, animal shelters and other settings where the highest level of cleanliness is required, Ladybug steam cleaners kill dust mites and bed bugs on contact, remove allergens, kill superbugs, and remove mold and mildew. They're ideal for cleaning and sanitizing tile floors, grout, kitchens and bathrooms, children's toys, workout rooms, auto interiors, scatter rugs, pet areas, and much more.
"While bleach has been trusted for years as the perfect disinfectant, current research shows that TANCS®-equipped Ladybug steam cleaners achieve a greater kill rate in 3 seconds than a 20-minute exposure to bleach," says Dunlop.
Located in Lake Forest, Illinois, 1-800-GO-VAPOR.com is moving fast to educate consumers and businesses that finally, there's a feasible, environmentally friendly alternative to chemicals. With customers in every state in the nation and seven foreign countries, the company maintains an A+ rating with the Better Business Bureau and markets Reliable, Vapamore and Ladybug steam cleaners worldwide. For more information, call 1-800-468-2767. 1-800-GO-VAPOR.com is a proud member of the Safer Chemicals, Healthy Families coalition, a nationwide effort to protect families from toxic chemicals. To stay safe and avoid toxic chemicals, keep abreast of the latest news with 1-800-GO-VAPOR.com's Twitter account, @1800GOVAPOR.