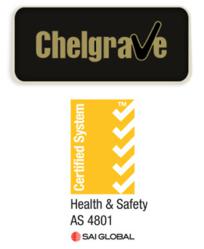 "Our number one commitment is to ensure our employees are safe, healthy and happy,"
Melbourne, Victoria (PRWEB) September 14, 2012
"Our number one commitment is to ensure our employees are safe, healthy and happy," said Greg Scott, general manager, Chelgrave Contracting. "We understand that the protection of the health and safety of our employees is vital to the success of all organisations, not just ours, but our customers as well."
Throughout their long and successful history, the team at Chelgrave has always prided themselves on their rigorous safety management framework and this is the next step towards achieving their ultimate goal of 'Zero Harm.'
"Poor performance in occupational health and safety (OHS) can take a heavy financial toll on any business, not to mention the human cost of work-related illness, injury, and fatality. In our continually changing workplace environment, the effective assessment and management of OHS issues is paramount," said Greg.
Since their inception, Chelgrave have fostered a 'Zero Harm' philosophy. Even prior to securing their Safety Accreditation, Chelgrave already had stringent safety plans in place on all sites which ultimately developed into a framework for interacting with clients and employees including initial site safety audits, regular toolbox talks, incident reporting and on the rare occasion that an employee is injured, return to work coordination.
For more than 33 years, Chelgrave have been providing quality workforce solutions to a broad cross section of Blue Chip clients. Over this period they have developed an enviable reputation as the experts in supply quality Ticketed, Trades and Technical Professional employees.
"Our wealth of experience gives clients access to industry experts who have the ability to hit the ground running, integrate into different work teams and environments and apply their skills," explained Greg. "From boilermakers to civil engineers, riggers to draftspersons, at Chelgrave we're committed to ensuring clients and employees are matched correctly.
"Now that we have gone through the process of securing AS4801 Safety Accreditation, we know that our OH&S practices will stand up to the most harsh scrutiny, but more importantly it is another step to ensuring the health and well-being of all our employees," he added.
In addition to gaining AS4801 Safety Accreditation, Chelgrave have already secured their Quality ISO 9001 Accreditation and are in the process of completing their Environmental ISO 14001 certification.
"There is no doubt that going through the process of achieving AS4801 Safety Accreditation will help both our employees and customers recognise just how serious we are about delivery best practice OH&S systems."