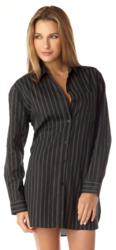 Our goal is not to be just a lingerie company, but to have something for every woman
Tewksbury, MA (PRWEB) September 14, 2012
UndercoverWear Inc. announced on Monday the debut of the "Holiday 2012 Collection". The collection features lingerie, clothing and jewelry designed for women with a focus on the success of the "Shades of Grey" novels.
"In March, we introduced our 'Unique Boutique' concept" said CEO, Tiffany James "Our goal is not to be just a lingerie company, but to have something for every woman. The fact is women today don't have time to go to three or four home parties a month. We want them to be able to find everything they want in one party."
UndercoverWear has added to their product lines again this season by bringing in a selection of styles that appeal to women today. In the lingerie "Boutique", UndercoverWear is introducing a men's cut sleep shirt called "The Executive", which ties in directly to the company's "Shades of Intimacy" collections. Based on the highly successful novels, UndercoverWear has lotions, lingerie and "lighter shades" of the products talked about in the books.
Other featured items in the line are the expansion of an "Under Control" line that has become one of the company's hottest sellers. This shapewear line is designed for every woman who wants attractive garments that also offer shaping and control.
UndercoverWear's Holiday 2012 Collection is available exclusively at the company's website and through their home party representatives.