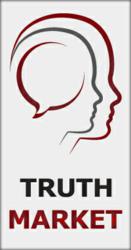 it's time to do something constructive and give the public a mechanism to openly challenge false claims and reinforce honest dialogue
Atherton, CA (PRWEB) September 10, 2012
TruthMarket, a division of Truth Seal Corp., today announced it plans to play an aggressive role in improving the state of political and commercial communications by launching its Marketplace for Truth Telling. TruthMarket offers the public a platform that enables grass-roots crowd-funding of citizen campaigns to publicly expose false claims and reinforce true claims. Cash incentives will encourage individuals to initiate, challenge or prove political, commercial and science claims.
Rick Hayes-Roth, Ph.D., the founder of TruthMarket, states that "false claims, half-truths and biased polls are polluting public dialogue, tainting public opinion and undermining politics, commerce and public trust." Instead of getting angry, he adds, "it's time to do something constructive and give the public a mechanism to openly challenge false claims and reinforce honest dialogue. "
"This election year has left the public increasingly appalled by negative rhetoric, conflicting claims and misrepresentation of facts," said Mark L. Feldman, Ph.D., Board Member and Principal Investor. "Though organizations that fact-check statements and publish their findings offer an important service, they unfortunately are not a deterrent to continued fabrication and distortion of facts." Feldman notes that "TruthMarket is already involving the public in the fight against false claims, ambiguous statements and fact spinning."
"Influential supporters and advisors are already preparing TruthMarket campaigns targeting controversial public statements and the validity of actions driven by those statements," added Hayes-Roth. "The present state of election rhetoric has sensitized people," he adds. "They are ready to drive honesty back into public dialogue."
About TruthMarket
TruthMarket is a division of Truth Seal, a California Corporation. TruthMarket is designed to be a popular online platform that enables everyone to campaign for truth in public dialogue. The primary objective is to increase truth and trust throughout the public information space – online and offline – by publicly exposing false claims and highlighting true claims. TruthMarket's ultimate goal is to predispose all public dialogue toward truth telling
Trademarks
Marketplace for Truth Telling, TruthMarket and TruthSeal are trademarks of Truth Seal Corp.