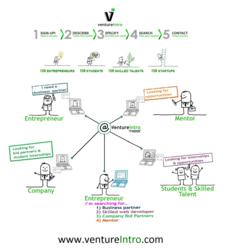 It's not all about what you know, it's about what you know, who you know and who you can trust!
London, UK (PRWEB UK) 11 September 2012
Imperative to any entrepreneur or start-up business is finding the right people with the right skill and know-how to get from 'concept' to 'launch' flawlessly. Not knowing where to find business partners and having to make do can spell disaster for a company that is just getting its feet wet. Stepping whole-heartedly and alone into the start-up world can be daunting with business prospects scouring the internet in hopes of finding a reputable partner, but as any business startup can testify, this takes time, resources and churns out less than favourable results 99 percent of the time. Without a solid support team it can be far too easy to let go of a venture idea and simply return to the 9 to 5.
This lack of a starting point for new businesses can now be tackled or completely avoided with ventureIntro's all-new, free, web service offering. Founded by CEO Gareth Nunn, "ventureIntro.com strives to make leaping into the world of entrepreneurial business less uncertain and the ultimate place to discover a foundational ground for creating business". ventureIntro.com provides a connection platform between the entrepreneurs and the talent, partners, mentors and access to crowd funding and crowd sourcing, all offering solid routes and assistance to get companies off the ground.
ventureIntro is filling the gaps that other business contact solutions, such as social media and business networking sites have left behind by providing that all important missing piece to the business jigsaw – the right contact. Some sites have proven successful for business startups by providing them with a 'broadcast' option for their startup, but individuals who work full-time would prefer to avoid a public announcement of their business transition while still working under another company. Therefore, this avenue of broadcast just won't work. ventureIntro knows however, that when a business startup does not connect with the right entrepreneurs and professionals, it fails. This is often the cause of why 70 percent of startups cannot get past the idea phase. Unlike fully searchable 'public' sites, such as LinkedIn or other social media connection sites, the identities and profiles of our start-up pioneers are kept completely private. This protects them from any sort of ramification they might face from current employers who might not appreciate their desire to branch out into bigger and brighter futures.
Utilising ventureIntro's free to use service, entrepreneurs and startups can take advantage of 'Business Partner Search' feature enabling members to find potential business contacts, even contacting them directly with support for Skype 'click to call', members can also save time by importing their existing LinkedIn profile content. ventureIntro's extensive database means that any business minded professional can easily search for key people needed to fulfill their company's vision, whether it be a fellow entrepreneur, talent, mentor or startup. ventureIntro also boasts access to a complimentary crowd funding portal directly through Crowdcube.com and crowdsourcing from Blurgroup.com at no additional charge.
Enabling businesses to jump from just an 'idea' to a successful work in progress, ventureIntro "soft launches" today with full registration now open. For those who have great business ideas however poor connections, don't waste time trying to find the right contacts – let them find you with ventureIntro.com.