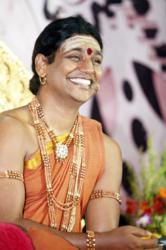 Just by Akashic Readings I will inspire at least hundred thousand youngsters to live and spread the science of enlightenment!
Los Angeles, CA (PRWEB) September 10, 2012
Sep 9th, 2012. Paramahamsa Nithyananda expressed his deep concern at how humanity has reached a state where it has become hard for someone to just sit with themselves and do nothing. With the growing technology and materialism invading the minds and lifestyle of humanity, sitting with oneself without doing anything, has become a rare phenomena. He said, "Humanity has lost its trust on the power of sitting, in Upanishad which is the basic truth of Vedic science. The very idea of simply sitting is lost. People worry that if they sit with themselves they may fall into depression, or miss out on something which others are doing, which keeps them constantly engaged in activities that is not even necessary for their spiritual growth."
In his live streaming message to the thousands of followers worldwide, Paramahamsa Nithyananda said, "Sit, sit, sit. Sit your way to enlightenment. That is why Upanishad has become a brand to Hindu tradition. Upanishad means simply sitting with the master, if you sit in pure aloneness, you are sitting with the Master. No prayer, no meditation, no mantra, no un clutching, nothing. Don't even try un-clutching, just sit. Just as how a baby grows when a pregnant woman sleeps, same way the consciousness grows when initiated disciples just sit with themselves in aloneness. "
Paramahamsa Nithyananda said that the greatness of the Power of Sitting is evident from the importance given to it in the Vedic Tradition. He said, "In Hindu tradition the highest practice is sitting, the highest teaching is Upanishad- sitting with the Master, the highest seat and the place of sitting is called peeta. Buddhism is able to create more and more enlightened beings just because they held on to one truth, Zazen (seated meditation)." He added, "I really wanted Hinduism to get back to that powerful truth of Upanishad. The first word, one would hear even if they wanted to jump start learning Hinduism is learning Upanishad, because Upanishad is the first word, the essence of Vedas." He said, he was pained to see how main stream Hinduism has lost these basic truths which has only resulted in a great damage being done to our Vedic tradition and lifestyle. This happens to be the root cause of many of the lifestyle related diseases which is pervading the lives of global communities worldwide.
Paramahamsa Nithyananda envisions that in next couple of years at least 100,000 youth will be inspired to live, experience and spread the Vedic science of enlightenment. He expressed that the only hope for Hinduism and spiritual tradition in India is when millions of youngsters study these great spiritual truths as part of their academic curriculum. He said, "One of the most unfortunate thing is, even leaders neither talk about Upanishad nor practice it. They don't even have confidence that Upanishad is possible in their lives. We need large number of Universities, spirituality teaching organizations, seminaries, theological societies. Everybody bothers about the economical, political, social corruption. No one bothers about the conscious corruption which has happened to the Vedic civilization."
It is necessary for a society to be established in simple basic truths of the Vedic science. It is then that an incarnation can spend time in only sharing the higher Vedic sciences such as materialization, teleportation and ways to express extraordinary yogic powers such as awakening a person's kundalini energy. This will lead to a new generation, a new civilization of peaceful enlightened beings living the rich and graceful culture of enlightenment that is necessary to protect and save the future of planet earth.
His Holiness Paramahamsa Nithyananda will be embarking on a World Tour to Europe & North America. Itinerary can be found at: http://worldtour.nithyananda.org/awakening-the-world-tour-itinerary-2012/
Videos on Upanishad: http://www.youtube.com/watch?v=VxUwuMkXvmc&feature=plcp
About Paramahamsa Nithyananda:
As a global leader in the science of Enlightenment, in the past ten years attempts have been made to map Paramahamsa Nithyananda's brain, his energy levels, his mitochondria, his DNA. The scientific fraternity is continuously stunned by the results of what they can evaluate.
In a recent study, blood samples from a group of initiated participants aged above 50 years were subjected to a well-known protocol called MTT Assay for assessment of cellular energy levels. 100% of participants of this particular study recorded a drastic increase in energy levels, averaging 1300%. Such an increase is clearly impossible through any other known means such as exercise, yoga or fitness training, which can affect a maximum of 40% increase in cellular energy.
Paramahamsa Nithyananda has been working with doctors, scientists and research groups across the world to record and analyze mystic phenomena using modern technology. The results continue to intrigue the world of medical science. The range of extraordinary abilities do lie latent in us.
Nithyananda has made an indelible mark on the international spiritual scene, attracting highly educated followers from various professions with his engaging way of demystifying the Vedic truths and reinterpreting them in the light of modern living.
A spiritual genius with an enlightened insight into everything from management to meditation, from relationships to religion, and from success to spirituality, Paramahamsa Nithyananda brings to us a wealth of practical wisdom, meditation techniques, kriyas and tools for lasting inner transformation.
Paramahamsa Nithyananda's pragmatic approach takes into account the thinking of the new generation. His down-to-earth approach to spirituality, and his image of a tech-friendly saint, who illustrates the truths of Vedanta using a laptop, and modern analogies to instill Vedic values, has found Nithyananda admirers among the youngsters and their parents alike.