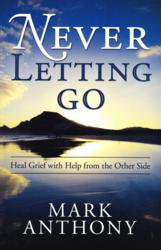 If I have a mission in life, it's to use my abilities to help heal people suffering from the loss of loved ones.
Melbourne, FL (PRWEB) September 10, 2012
Grieving—for our own mortality and that of loved ones—is, arguably, the most profound challenge human beings face. Believers in an afterlife take great comfort in knowing they'll one day be reunited with the people they care about most. For those who'd rather not wait, Mark Anthony's uplifting new book, Never Letting Go: Heal Grief with Help from the Other Side (Llewellyn, paper, $15.95) makes a beautiful case for the reality that our dearly departed are still connected and watching out for us. Anthony is used to making cases. In addition to being a psychic medium, he's an Oxford-educated attorney, a combination that is not as in conflict as it might seem.
"The justice system relies on evidence," says Anthony who is licensed to appear before the Supreme Court. "True mediums also rely on evidence, provable, for example, by the healing that begins when I convey the messages I receive." Anthony, who is able to see, hear, and feel spirits—clairvoyance, clairaudience, and clairsentinence, respectively— hails from a long line of mediums. "Both my mother and father had the same gift, as have relatives going back at least a century. The lawyer in me knows we'll find a genetic link to mediumship one day."
If mediums have a specialty, Anthony's is grief. "The loss of a loved one is almost always accompanied by regrets—things left unsaid, undone, things we wish we could take back. It's not unusual for people to go their whole lives with unresolved grief. It doesn't have to be that way." In Anthony's experience, loved ones in the realm of spirit are still connected to us, offering guidance, especially as it relates to mitigating the sadness and loss occasioned by their passing. "If I have a mission in life," says the author who appears regularly on radio and TV as both a legal and paranormal commentator, "it's to use my abilities to help heal people suffering from the loss of loved ones."
Healing grief with help from the other side—the book's subtitle—is a big claim to live up to. Never Letting Go offers dozens of examples of messages received, communicated, and the healing occasioned because of it. "I've done readings for just about every kind person you can imagine, from thugs to darling old grandmothers. You'd be surprised at some of the messages their loved ones have for them," laughs Anthony. "Spirits don't mince words."
"Mark Anthony has written a book that is enlightening, comforting, and inspiring for anyone and everyone who is searching for a message of hope after losing a loved one," says Donna Gray of BookReview.com. Jeffrey A. Wands, author of Another Door Opens, calls Never Letting Go
"an enlightening journey through coping with grief and discovering spiritual renewal."
Never Letting Go is already being recognized in some circles as the definitive metaphysical guide for healing the pain of grief. It's a transformative primer, full of love, life and (surprise) rationality able to overrule all of your objections.
For more information, visit http://www.healgriefwithbelief.com.
Never Letting Go
By Mark Anthony
Llewellyn Worldwide, ISBN: 978-0-7387-2721-9; trade paper, 267 pp., $15.95
About the Author
An Oxford-educated attorney and intuitive, Mark Anthony appears regularly on national radio shows and has been a regular legal commentator for Fox News. He combines his intuitive gifts with his legal expertise in his counseling work. Mark lives in Florida. For more information visit http://www.healgriefwithbelief.com.
Media contact: Victor Gulotta, Gulotta Communications, Inc.
617-630-9286, http://www.booktours.com, victor(at)booktours(dot)com